The upcoming fishing season on Lake Toho is our peak season for the year mainly because this is the beginning of the spawning months here in Central Florida. January through March is when Lake Toho produces the vast majority of trophy-sized bass over 10 lbs and it is also our peak season overall for bass fishing here in Central Florida.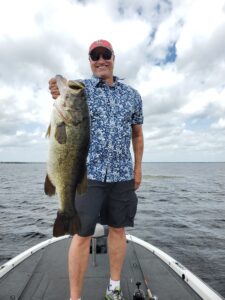 The fishing is so good during this time of year because this is the time that the bass are in their pre-spawn and spawning stages which produce some of the best catches and some of the biggest bass during trips. Averaging 20 to 30 bass per day and good chances daily at trophy size bass over 10 lb throughout this period. Lake Toho produces more bass over 10 pounds than any other body of water in the nation and is considered the premier trophy bass fishing lake throughout the USA.
The best methods for catching large numbers of bass as well as trophy bass over 10 lb are with the large golden wild shiners which range between 6 and 10 inches in size. During this time of year the big Lake Toho lunker bass become keyed in on large golden shiners before they go on to beds and spawn. This gives bass Anglers the best chance of any time of year to catch their trophy bass of a lifetime. Artificial lures can also be productive if you have had a spell of good weather in between cold fronts but the wild shiners are always the the way to get your best chances at trophy size bass out of Lake Toho.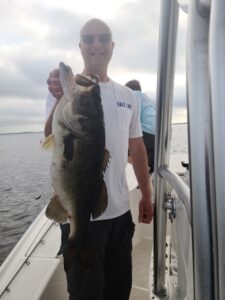 It is well known throughout the bass fishing community that this is our best time of year for fishing on Lake Toho for lunker sized bass, and this is also when our clients are looking to book trips with our captains to get their chance at a trophy bass. Because of this being our peak season we usually book up several weeks or even a month or so in advance with all of our nine captains. If you are looking to book it is recommended that you reserve your trip several weeks ahead of time or even a month or two ahead of time to ensure that we have one of our captains available for you on the day that works best for you. Now is the time to start thinking about what day you would like to get on Lake Toho and catch the trophy bass of a lifetime and reserve your trip while we still have availabilities open for the day that you're looking for.
Our captains are here to work for you and guide you to the best fishing experience that you've ever had in your life on Lake Toho located here in Kissimmee Florida just minutes from Disney World. So isn't it high time that you get your chance at your trophy bass with AJ's bass guides.
Captain Jamie Jackson
Any questions? Or want to book your trip? Feel free to call us anytime at 407-288-9670 or email us on our
contacts page
.
Want to be notified of our latest deals, news, fishing reports/blogs, and Youtube videos?!
Subscribe to our email list below!