Spring bass fishing on Lake Toho here in Central Florida is one of the most productive times for catching good numbers of bass as well as the trophy bass of a lifetime. The reliability of bass fishing on Lake Toho at this time of year is due mainly to the weather becoming very stable and in turn the bass fishing is also very stable and productive at this time of year.
AJ's Bass Guides has been in operation since 1970 and holds the lake record of 16 pounds 10 ounces which was caught by Ed Chancy the founder of AJ's Bass Guides in the month of May in 1977 on a black grape paddle tail plastic worm. Captain Jamie Jackson caught the second largest bass out of Lake Toho weighing 15 pounds 8 ounces also in the month of May in 1987 on a rattletrap during the 1987 drawdown. Florida bass fishing in the spring is the best time of year for catching big bass on large golden wild shiners as well as artificial lures.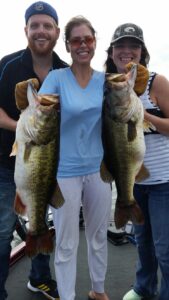 If it is artificial lures that you are interested in, springtime is what we consider the best time of year for fishing artificials on Lake Toho. It is not uncommon to catch a 5 bass limit weighing over 30 pounds on artificials at this time of year.
2023 has been one of the best years that we have seen for catching trophy-sized Lake Toho Florida bass in a very long time. As we move into the spring months this type of fishing will continue and the outlook for this spring may be the best that we have seen yet for catching a Lake Toho trophy. Also 2023 has been one of the busiest years that we have ever experienced in the 53 years that we have been in operation and even though we have 12 full-time captains working for us we recommend reserving your date as early as possible while we still have one of our professional full-time Lake Toho bass guides available.
Looking forward to seeing y'all soon and bass wishes,
Captain Jamie Jackson