Orlando Fishing Charters - Kissimmee Bass Fishing
AJ's Freelancer Orlando Bass Guide Service, in business since 1970, is the largest and oldest continuously-operated Orlando fishing Charters and guide service. We specialize in trophy bass fishing on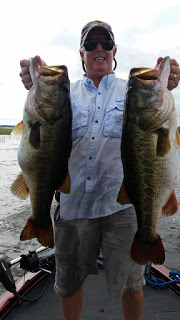 the renown Lake Tohopekaliga, or "Toho" as the lake is often referred to. Lake Toho is located near Disney World, Sea World, Universal Studios, the Orlando Convention Center.
Year after year this huge grassy lake, part of the Kissimmee Chain of Lakes and headwaters to Lake Okeechobee, consistently produces more bass over 10 pounds that any other lake in our country. It is not surprising that Toho has earned a nation-wide reputation as ..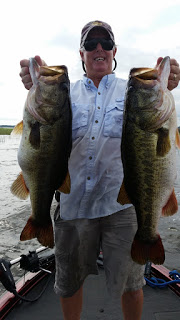 #1 BEST BIG BASS FISHING LAKE IN THE USA!

West Lake Toho produces more bass over 10 pounds than any other lake in the United States of America. Come fish with us and the tournament tested, professional fishing guides of Freelancer Bass Guide Service.
| | |
| --- | --- |
| CLICK HERE (facebook) to get hot deals up-to-date fishing reports, and view our most recent trophy bass catches, plus videos and much more! | |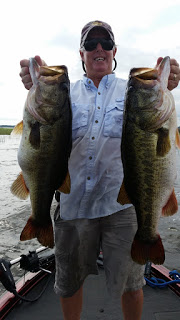 FISHING CHARTER NEWS FLASH… A.J.'s Orlando Bass Fishing Guided Charters, Toho is renowned as the #1 trophy bass fishing lake in the USA. It is the headwaters of the Kissimmee Chain of Lakes, Lake Okeechobee and the Everglades in the South of Florida. Our winter season for Florida bass fishing has started. This is one of the most active times for Florida bass fishing here on West Lake Tohopekaliga or better known as Lake Toho. For Central Florida trophy bass this is when Lake Tohos' big female bass start moving into their post spawn staging areas in great numbers. This is our favorite time of the year for our Orlando bass fishing adventures. We produce more Florida bass during this time of year weighing 10 pounds or more than any other time of year and not only the trophy bass fishing is at it's best. Lake Toho bass fishing over all is at it's best.
A.J.'s Freelancer Bass Guide Service Inc. began operating in 1970. We are fortunate to have seven full time professional Orlando bass fishing guides working for us. Our guide staff is made up of US. Coast Guard- licensed master captains with commercial insurance coverage. Our customers not only have the pleasure of fishing with our expert Florida bass guides but, also from our top-of-the-line, tournament grade bass boats. Our captains produce more 10 pound plus Lake Toho bass than other guides on the lake. West Lake Tohopekaliga is known to be the number one trophy large mouth bass lake in the USA.All bass gear is provided, plus waters, sodas and ice. All of our boats are top of the line tournament rigged and equipped with the best equipment available. You can rest assure that when you go on one of our freshwater bass fishing charters, you are going with the BEST. Freelancer holds the certified Lake Toho record Florida bass weighing in at 16 pounds 10 ounces, which was caught by Ed Chancey, founder of Freelancer Bass Guide Service. Ed caught this huge Toho bass in 1978.
We, at A.J.'s Freelancer Fishing Guide Service Inc. here in Kissimmee, Central Florida area, have 7 professional freshwater Florida bass fishing guides. Because of the popularity of trophy bass fishing here in Florida and in spite of the size our team, our Florida bass fishing charters fill up well in advance. So to ensure getting the date (s) you want, book your reservation as early as possible.. (And while you're here in Central Florida you may want to also a visit a local attraction or two: Disney World, Universal Studios, Epcot Center, Sea World, Legoland, Busch Gardens, Orlando Convention Center, Kennedy Space Center.)
To reserve your trophy bass fishing trip of a lifetime on Lake Toho, call Captain James Jackson at (800) 738-8144 or e-mail
Our goal is to guide you to the best Lake Toho bass fishing charter of a lifetime. We know where your trophy bass lives.
Looking forward to fishing with you.
Bass wishes,
Capt.A.James Jackson
Fall News Flash Update:
Once again it's our most active season for TROPHY BASS FISHING on West Lake Tohopekaliga and the Kissimmee Chain of Lakes in Central Florida. If you're looking for a 10- pound plus bass of a lifetime, now is one of the best times to cast your line into Toho's grassy waters. More Lake Toho super hogs are landed during this time than at any other time of the year! Why? Toho's water level is down and its water temperature is warming. Groups of big female bass are gathering in post spawn staging areas. They are looking for a big meal just after spawning. And big, golden wild shiners are what they're after. How can I locate one of these active areas? Call (800) 738-8144 A.J's Freelancer Bass Guide Service Inc. and Captain A. James Jackson or one of his seven full time professional bass guides will be glad to escort you to one of these hot spots on Toho. These guys know the lake like the back of their hands. What bait do you suggest? Wild golden shiners are by far your best bet for catching numbers of bass and the big lunker you dream about. If you would like to use artificial lures and you've had stable weather for several days prior to your trip, you can have a very productive day catching Florida largemouth bass. However, if a cold front has passed through just before your trip, fishing with artificials is likely to be more difficult and less productive. My advice is to stay open-minded when it comes to bait - try using wild shiners rather than artificials because they are always productive regardless of conditions on the day of your trip. Remember, on any one cast Toho can produce the trophy bass of a lifetime! When should I book my trip? Because Fall is one of our busiest seasons, we book up well in advance. To ensure that I or one of my professional guides are available on your preferred day, make your reservation as early as possible. The sooner you book, the better! So come spend a few warm, sunny days fishing with us in the Orlando, Kissimmee , St Cloud area, and let us show you where your trophy lives. And when you're ready for a change-of-pace activity, why not visit the Orlando theme parks such as: Disney World, Universal Studios, or Sea World. You might also enjoy a short drive to other attractions such as the NASA Kennedy Space Center, Busch Gardens or a sandy beach on the Atlantic coast or Gulf of Mexico. When you leave Central Florida, you may want to take an even longer drive to Lake Okeechobee, the Everglades and other ecological sites in South Florida.
See you soon!
Bass wishes,
Capt A.James Jackson
To make a reservation call (800) 738-8144 : cell 407-288-9670 or email us
Baits and Lures for Catching Lake Toho Bass
Live bait or better known as wild golden shiners are always the surest way to catch large trophy bass at anytime of the year here on Lake Toho. But, for those who prefer fishing with artificial lures. The ones that produce the best results for catching trophy Florida bass are plastic worms, soft jerk baits or better known as flukes, spinner baits, top water baits, rattle trap crank baits and spoons. Either way wild shiners or artificial lures, the bass action can be fast and furious. So, why don't you take a break from your 9 to 5 grind at work or standing in line at one of our local theme park attractions and arrange for an exciting change of pace. Come on down to sunny Central Florida, and enjoy some of our trophy bass fishing here on our world-famous West Lake Tohopekaliga (" Toho" ).
BREAKING NEWS FROM THE CAPTAIN....
I have just developed a fishing technique that nobody knows about for catching Florida largemouth bass. Bass can't resist this technique. It's a wild shiner method for catching bass that is out of the box and takes bass fishing to a new level that we have all dreamed about. This is without a doubt the most exciting way to catch bass on wild shiners that has ever been conceived. The action is hot fast and furious. The bass seem to hit our shiners almost nonstop until we run out of bait. I can't tell you what the technique is, for fear that our competition will find out what we are doing and copy my secret technique. We are the only ones that know about this and know one will ever figure it out. It is that out of the box and innovated. So come on down, let us at Freelancer Bass Guide Service show you the most exciting way to catch Florida largemouth bass on wild shiners. I can't wait to show all our customers this new technique.

I think my son and I were one of the first to see this in action during our fishing charter and it works folks...it not only saved our day of fishing, when no one else was catching fish, but made for a really good morning of fishing. ~Keith Perryman

Looking forward to fishing with you!

Bass wishes,
Capt. James Jackson
"Bigger then biggest--That's what happened on a recent Thursday, Friday trip with Jamie. He put Dave Dunn and I on on a spot that yielded the two biggest bass I've ever caught. I thought Thursday's 10 1/2 pounder was a once in a life time shot until Friday. Then the mother of all bass I've caught was landed-- a 13 pounder. What a two day trip. Jamie did it two days straight-- two monster fish. He knows where to go to get record breakers. -Dwain Holmgren."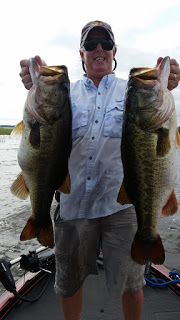 Ever experience the thrill of maneuvering a 10+ pound largemouth bass out of the
grassy waters of a Florida lake... without losing it?  Your hands tremble and your mouth goes dry.

This is the moment you've dreamed about!

Why not let one of our friendly professional fishing guides help make your dream come true?

- WE KNOW WHERE YOUR TROPHY BASS LIVES –
Kissimmee and Lake Toho Bass Fishing
They say practice makes perfect. Captain A.J. "Jamie" Jackson has had his share of practice as the premier Lake Toho area professional bass fishing guide (He has racked up thirty-some years of experience fishing and guiding on Lake Tohopekaliga and the Kissimmee Chain of Lakes near Orlando, Florida.

His expertise as a bass fishing guide has earned him a national reputation, and is the reason he is featured in bass fishing magazine articles, on television shows, and is a consultant on the topic of trophy bass fishing.
---
PLANNING A FRESHWATER FISHING TRIP TO CENTRAL FLORIDA?
Here are Some Facts to Keep in Mind...
West Lake Tohopekaliga (or "Toho", for short)

produces more bass over 10 pounds than any other lake in the USA

AJ's Freelancer Bass Fishing Guide Service of Orlando and Kissimmee, Florida

Is the largest and oldest bass fishing guide service in Central Florida (in business since 1970)
Guides more bass fishing trips per year than any other guide service in Central Florida
Holds the Lake Tohopekaliga certified record for largemouth bass with a catch of 16 lbs 10 oz

Captain A. James Jackson

Jamie has been a professional bass guide on Lake Toho and the Kissimmee Chain for over 30 years
Is recommended by BASSMASTER and IN-FISHERMAN as the premier bass fishing guide at Lake Toho
Is the subject of an entire chapter in Henry Gilbey's book, Adventure Fishing, UK., © 2003
As an expert on bass fishing in Florida, Jackson is frequently quoted in fishing articles on the subject

---
Lake Toho Bass Fishing Legends
Captain A. James Jackson
Owner of AJ's Freelancer Bass Guide Service

Ed Chancey
Founder of Freelancer Bass Guide Service

Captain A. James Jackson is a full-time professional bass fishing guide with more than 30 years experience on the Kissimmee Chain of Lakes. Top fishing magazines, frequently feature Captain Jackson in articles about trophy bass fishing in Central Florida's grassy waters. Captain Jackson also appears on IN-FISHERMAN, BASSMASTER, and

ESPN

fishing shows on television.

Ed Chancey is known as

The Legend of the Lakes

. Ed learned his fishing Techniques from the Miccosuki Indians who raised him. He passed his knowledge and skills on to Jackson, his protégé, friend, and partner. Ed died in 1998, but his legend lives on... Ed continues to hold the certified

Lake Toho

record for largest largemouth bass caught, which was 16 lb 10 oz.
---

Customer Testimonial:
"Just a note to say thanks for setting up a guided fishing trip for me and my 6 year old grandson on short notice last week. You were correct- it was the fishing trip of our lives... Tre talked about the fishing trip all the way home, and he obviously enjoyed it more than Busch Gardens, baseball, the beach, etc!"
Bob Kramer, Villa Hills, KY

---

Customer Testimonial:
"I wanted to thank you again for helping us out in the huge pinch we were in with getting dumped by another guide service. I felt providing a testimonial was the best thing I could do. "I am a novice to intermediate bass fisherman and my wife fishes occasionally with me. We agreed during our honeymoon we would hire a guide and go out and catch some Florida Largemouth. I paid a guide the deposit, had $40 sunk into my fishing license only to have this guide cancel on me less than 12 hours before out trip! In a panic, I called AJ's guide service. He took care of us and got us a guide for the next day with practically no notice. We went out in what would easily be considered poor fishing conditions. A cold front was already passing and a strong storm had come in the night before. Our guide, Bill Hoosier, still managed to put us on fish with no problem at all. Sure I don't have gobs of photo's of 7 to 10lb bass to brag about, but fishing is cyclical and I understood the bite would be tough. He still gave me my best bass by about 10.5lbs, and my wife her best bass by close to a pound. When you go out on a a sub-par fishing day and two of us manage to land the biggest bass of our lives, that speaks volumes of what these guys can do for you. Simply put, I could not express enough thanks to AJ and Bill saving our fishing trip, investment, and experience. You guys made it one to remember. Do not ever think about selecting another guide in the area. I hope I get the chance to come back soon. If I do, I will be calling AJ's guide service and having Bill take us out on the water again, thanks for everything guys!" Matt Clark

---

Captain Jackson,

I've been Bass fishing a good 500 or more days in my lifetime and it was my youngest daughter Sydney, fishing with you who caught the BIGGEST BASS EVER! The trip you took the girls on was created memories that will last a lifetime. Your knowledge of the lake, the fish and your surroundings is amazing. Given the fact that there was a front hanging in the area coupled with fog for the entire morning we fished with you, I find it exceptional that the girls were able to catch such fish. According to the measurements it appears Sydney's bass was apx 9.25 Lbs. and Katie's male was as you mentioned around 3.5 Lbs. Couple that with a total catch of 10 or more Bass for a morning catch and all I can say is YOU and your Guide Service are EVERYTHING ANYONE can ask for.

You and I both know there are many people out there who say they can, they know, and they can do, when the truth is, there are not that many who really know and really can. You Captain REALLY KNOW and REALLY CAN produce results, even in less than optimal conditions. That SIR is the test of a REAL PROFESSIONAL of which I find you to be. Again I want to THANK YOU for personally taking my girls and teaching them what you did about the area and wildlife they were exposed to. I am enclosing a few pictures I took while with you for your review.

Chuck Stone

---
Florida is the fishing capitol of the US, with more great places to fish than just about anywhere else in the world. When you are thinking about your next fishing trip remember the giant Bass are waiting for you here in Florida
---
Captain AJ Jackson of Freelancer Bass Guide Service has been featured on numerous In-Fisherman TV shows, In-Fisherman Magazines, Bassmaster Magazine and other popular magazines and books.
| | | |
| --- | --- | --- |
| | Click on each magazine cover to read articles | |
FISHING CHARTER INFORMATION & RESERVATIONS
Call Toll Free 1-800-738-8144
Local 407-348-8764
Cell 407-288-9670
Fax 407-290-9976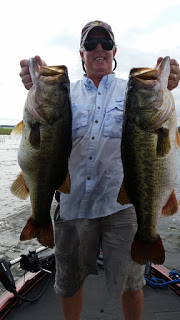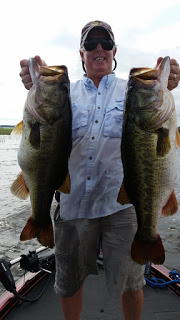 CLICK HERE (facebook) to get hot deals
up-to-date fishing reports, and view our most recent trophy bass catches,
plus videos and much more!