News Flash! Lake Toho Feeding Frenzy!
Lake Toho bass are on a feeding frenzy as of right now! Due to the high water levels from hurricane Irma. Bass have congregated in the thousands to the flowing water at the locks on the south end of the lake. This has made for some of the best fishing ever on Lake Toho! The action is non-stop until we run out of bait. Over 40 bass are being boated per day. If there's ever a time to make a trip to Lake Toho and go out with a Orlando fishing guide it's now! Check out our latest article here for more information. For information on availability call us at 407-288-9670 or visit our contacts page. 
About AJ's Orlando Fishing Guide Service
Enjoy a day on the water on one of the country's most beautiful lakes with our Orlando Florida bass fishing guides. Make sure you have your camera's ready because there will be plenty to take pictures of. Such as breath taking sunrises, amazing wildlife from Bald eagles, Hawks, Osprey's, many different species of duck, all the way to Alligators. But don't forget the Orlando fishing, Lake Toho is one of the top lakes in the country for catching both trophy sized bass and numbers. Only a couple other lakes in the country can rival Lake Toho's ability to produce trophy sized bass.
But bass aren't always what's on the end of the line huge gar, pickerel, and bowfin just add to the adventure! AJ's Freelancer Orlando Bass Guide Service, in business since 1970, is the largest and oldest continuously-operated Orlando fishing guide service. We specialize in Florida trophy bass fishing on the renown Lake Tohopekaliga, or "Toho" as the lake is often referred to. Lake Toho is located near Disney World, Sea World, Universal Studios, and the Orlando Convention Center.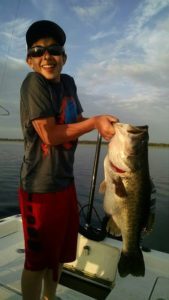 When the float goes down pick up the rod and hang on! Because at any moment that one you're looking for could be on the other end of the line, and with our professional Lake Toho fishing guides and equipment anyone from kids to grandparents can fight them in! Year after year this huge grassy Florida lake, part of the Kissimmee Chain of Lakes and headwaters to Lake Okeechobee, consistently produces more bass over 10 pounds than any other lake in our country. It is not surprising that Lake Toho has earned a nation-wide reputation as the best big bass fishing lake in the USA!
Come spend a day on the water fishing on one of the most beautiful lakes with the tournament tested, professional, Lake Toho bass fishing guides of Freelancer Bass Guide Service and experience Orlando fishing. For more information on our rates visit our rates and information page, and for information on availability call us at 407-288-9670 or visit our contacts page.
Catch a Giant Lake Toho Bass
Want to catch a giant Florida bass on the fishing trip of a lifetime?  Trophy Lake Toho fishing guide trips are our specialty! We know where the big girls hang out and how you can catch them!  Captain James Jackson: "Our goal is a satisfied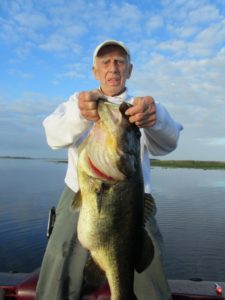 customer! Our Lake Toho fishing guides will do whatever it takes to see that you have a big grin on your face when you step out of the boat. Hope to see y'all soon!"
AJ's Orlando Fishing Guide Service (in business since 1970) is the oldest continuously operated guide service in the Orlando Central Florida / Disney area. When anglers ask, "Who would you recommend as the premier Lake Toho bass fishing guides?" The staff at IN-FISHERMAN Magazine always responds, "AJ's Freelancer Bass Guide Service."  Want to be sure your guide is a Coast Guard licensed captain, a requirement for Florida bass fishing guides on the Kissimmee Chain of Lakes? Capt. Jackson and all our Lake Toho bass guides are full time licensed professionals. (Some area guides are not.)
Want to learn the pros' most effective techniques for catching Lake Toho's true lunkers?  All Freelancer Lake Toho fishing guides have years of experience guiding on the Kissimmee Chain of Lakes. They know the latest techniques for catching big bass in Florida's grassy waters.
Need a change-of-pace activity after visiting some of Orlando's theme parks? Lake Toho is just minutes from the Orlando Convention Center and area theme parks - Disney, Universal Studios, and Sea World.
Latest Orlando Fishing Guide TV show
Second Orlando Fishing Guide TV show
First Orlando Fishing Guide TV show
The Lake Toho Fishing Guide Team
  
Captain A. James Jackson
Owner of AJ's Freelancer Bass Guide Service
Captain A. James Jackson is a full-time professional Lake Toho bass fishing guide with more than 35 years experience on the Kissimmee Chain of Lakes. He has the second biggest bass ever caught out of the lake at 15lb 8oz, and has been a Lake Toho guide for longer than anyone else. Top fishing magazines, frequently feature Captain Jackson in articles about trophy Lake Toho bass fishing in Central Florida's grassy waters. Captain Jackson also appears on IN-FISHERMAN, BASSMASTER, and ESPN fishing shows on television.
Ed Chancey
Founder of Freelancer Bass Guide Service
Ed Chancey started doing Orlando fishing guide trips in 1960 and was one of the first Lake Toho fishing guides, he founded Freelancer Bass Guide Service, and is known as The Legend of the Lakes. Ed learned his fishing Techniques from the Miccosuki Indians who raised him. He passed his knowledge and skills on to Jackson, his protégé, friend, and partner. Ed died in 1998, but his legend lives on... Ed continues to hold the Florida certified Lake Toho record for the largest largemouth bass caught, which was 16 lb 10 oz.
AJ's Orlando Bass Guide Service holds Lake Toho record
Ed Chancey, Orlando bass guide and founder of AJ's Freelancer bass Guide Service, holds the certified lake record bass with a massive weight of 16 lbs, 10 oz! The taxidermist that mounted this record fish noted the fish was spawned out and would have weighed close to 2 lbs. heavier if caught during the winter months.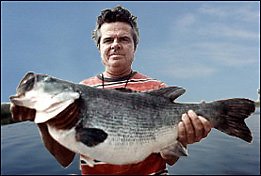 The heaviest 5 bass limit in B.A.S.S history was also caught on Florida's Lake Toho by Bassmaster pro Dean Rojas. His record of 45 pounds 2 ounces still holds today! During that four day tournament he finished with 20 bass weighing 108lbs-12oz also a new record for a four day event. With 21 bass 10lbs or over being caught total! No one bothered to count all the 8- and 9- pound bass.
The woman's world record was also caught at West Lake Toho and weighed an impressive 14 lbs. 5 oz. The largest two-man limit catch of large mouth bass totaled 151.23 lbs. with a 10 fish per licensed fisherman limit. [The current limit is 5 fish per licensed fisherman.]
The Florida Game and Fresh Water Fish Commissions biologists have indicated that there is one bass over ten pounds for every five acres of lake. (The lake is 22,700 acres)
This lake is well known among serious fishing enthusiasts as the top Florida bass fishing destination for catching trophy sized bass.
Last year was a banner year for catching trophy bass in Florida, and this year is expected to be even better, according to officials at the Florida Game and Fresh Water Fish Commission. As a result, Toho and a few other well-managed Florida bass fishing lakes are once again producing the really BIG bass that anglers dream about…. fish like the ones that lured fishing enthusiasts from all over the world.
Contact us at 407-288-9670 or ajsbassguides@orlandobass.com