AJ's Freelancer Orlando Bass Guide Service
Who are we
AJ's Freelancer Orlando Bass Guide Service, in business since 1970, is the largest and oldest continuously-operated Orlando Florida fishing charter and guide service. We specialize in Florida trophy bass fishing on the renown Lake Tohopekaliga, or "Toho" as the lake is often referred to. Lake Toho is located near Disney World, Sea World, Universal Studios, and the Orlando Convention Center.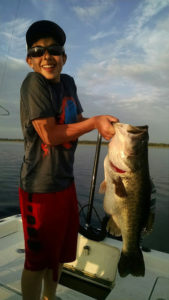 Year after year this huge grassy lake, part of the Kissimmee Chain of Lakes and headwaters to Lake Okeechobee, consistently produces more bass over 10 pounds than any other lake in our country. It is not surprising that Toho has earned a nation-wide reputation as the best big bass fishing lake in the USA! Come spend a day on the water fishing on one of the most beautiful lakes with the tournament tested, professional, Orlando, Florida bass fishing guides of Freelancer Bass Guide Service and experience Florida bass fishing. For more information on our rates visit our rates and information page.
Catch a Giant Bass
Want to catch giant bass on the fishing trip of a lifetime?  Orlando fishing charters are our specialty! We know where the big girls hang out and how you can catch them!  Captain James Jackson: "Our goal is a satisfied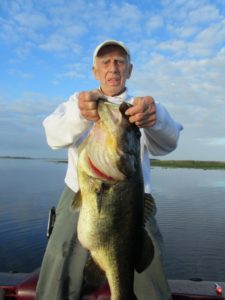 customer! We will do whatever it takes to see that you have a big grin on your face when you step out of the boat. Hope to see y'all soon!"
Freelancer (in business since 1970) is the oldest continuously operated guide service in the Central Florida / Disney area. When anglers ask, "Who would you recommend as the premier Florida fishing guides?" The staff at IN-FISHERMAN Magazine always responds, "AJ's Freelancer Bass Guide Service."  Want to be sure your guide is a Coast Guard licensed captain, a requirement for Florida bass fishing guides on the Kissimmee Chain of Lakes?  Capt. Jackson and all Freelancer Bass Guides are full time licensed professionals. (Some area guides are not.)
Want to learn the pros' most effective techniques for catching Toho's true lunkers?  All Freelancer guides have years of experience guiding on the Kissimmee Chain of Lakes. They know the latest techniques for catching big bass in Florida's grassy waters.
Need a change-of-pace activity after visiting some of Orlando's theme parks?   Lake Toho is just minutes from the Orlando Convention Center and area theme parks - Disney, Universal Studios, and Sea World.
The Team

Captain A. James Jackson
Owner of AJ's Freelancer Bass Guide Service
Captain A. James Jackson is a full-time professional Florida bass fishing guide with more than 30 years experience on the Kissimmee Chain of Lakes. He has the second biggest bass ever caught out of the lake at 15lb 8oz, and has been a Florida fishing guide for longer than anyone else. Top fishing magazines, frequently feature Captain Jackson in articles about trophy bass fishing in Central Florida's grassy waters. Captain Jackson also appears on IN-FISHERMAN, BASSMASTER, and ESPN fishing shows on television.
Ed Chancey
Founder of Freelancer Bass Guide Service
Ed Chancey started doing Orlando fishing charters in 1960 and was one of the first Florida bass fishing guides, he founded Freelancer Bass Guide Service, and is known as The Legend of the Lakes. Ed learned his fishing Techniques from the Miccosuki Indians who raised him. He passed his knowledge and skills on to Jackson, his protégé, friend, and partner. Ed died in 1998, but his legend lives on... Ed continues to hold the certified Lake Toho record for largest largemouth bass caught, which was 16 lb 10 oz.
We Hold the Record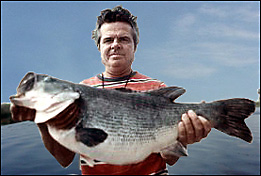 Ed Chancey, Orlando fishing charter guide and founder of AJ's Freelancer bass Guide Service, holds the certified lake record bass with a massive weight of 16 lbs, 10 oz! The taxidermist that mounted this record fish noted the fish was spawned out and would have weighed close to 2 lbs. heavier if caught during the winter months.
The heaviest 5 bass limit in B.A.S.S history was also caught on Lake Toho by Bassmaster pro Dean Rojas. His record of 45 pounds 2 ounces still holds today! During that four day tournament he finished with 20 bass weighing 108lbs-12oz also a new record for a four day event. With 21 bass 10lbs or over being caught total! No one bothered to count all the 8- and 9- pound bass.
The woman's world record was also caught at West Lake Toho and weighed an impressive 14 lbs. 5 oz. The largest two-man limit catch of large mouth bass totaled 151.23 lbs. with a 10 fish per licensed fisherman limit. [The current limit is 5 fish per licensed fisherman.]
The Florida Game and Fresh Water Fish Commissions biologists have indicated that there is one bass over ten pounds for every five acres of lake. (The lake is 22,700 acres)
This lake is well known among serious fishing enthusiasts as the top Florida destination to catch trophy bass.
Last year was a banner year for catching trophy bass in Florida, and this year is expected to be even better, according to officials at the Florida Game and Fresh Water Fish Commission. As a result, Toho and a few other well-managed Florida lakes are once again producing the really BIG bass that anglers dream about…. fish like the ones that lured fishing enthusiasts from all over the world.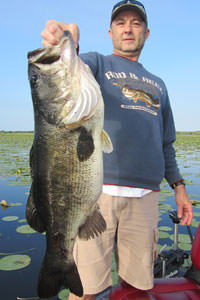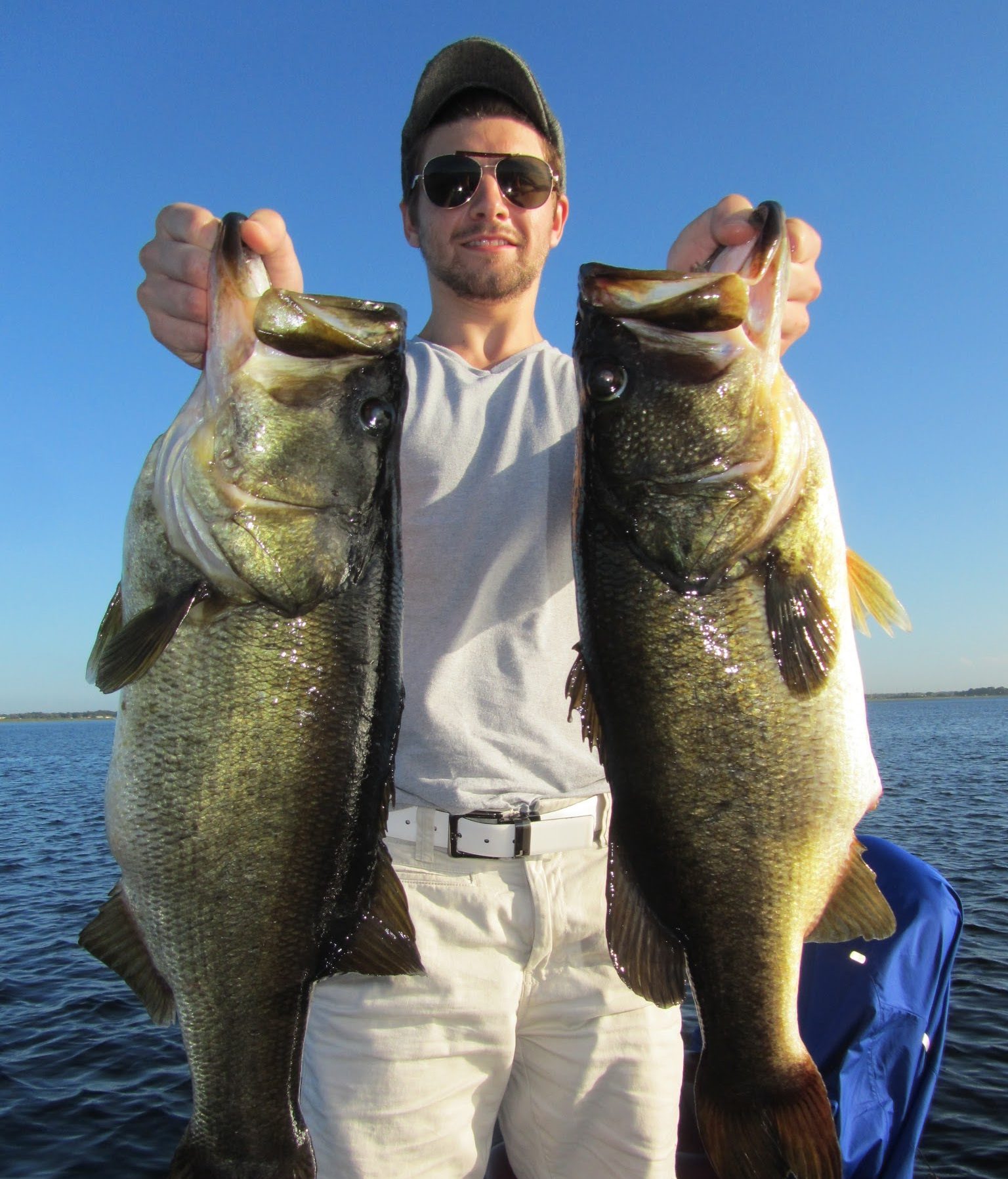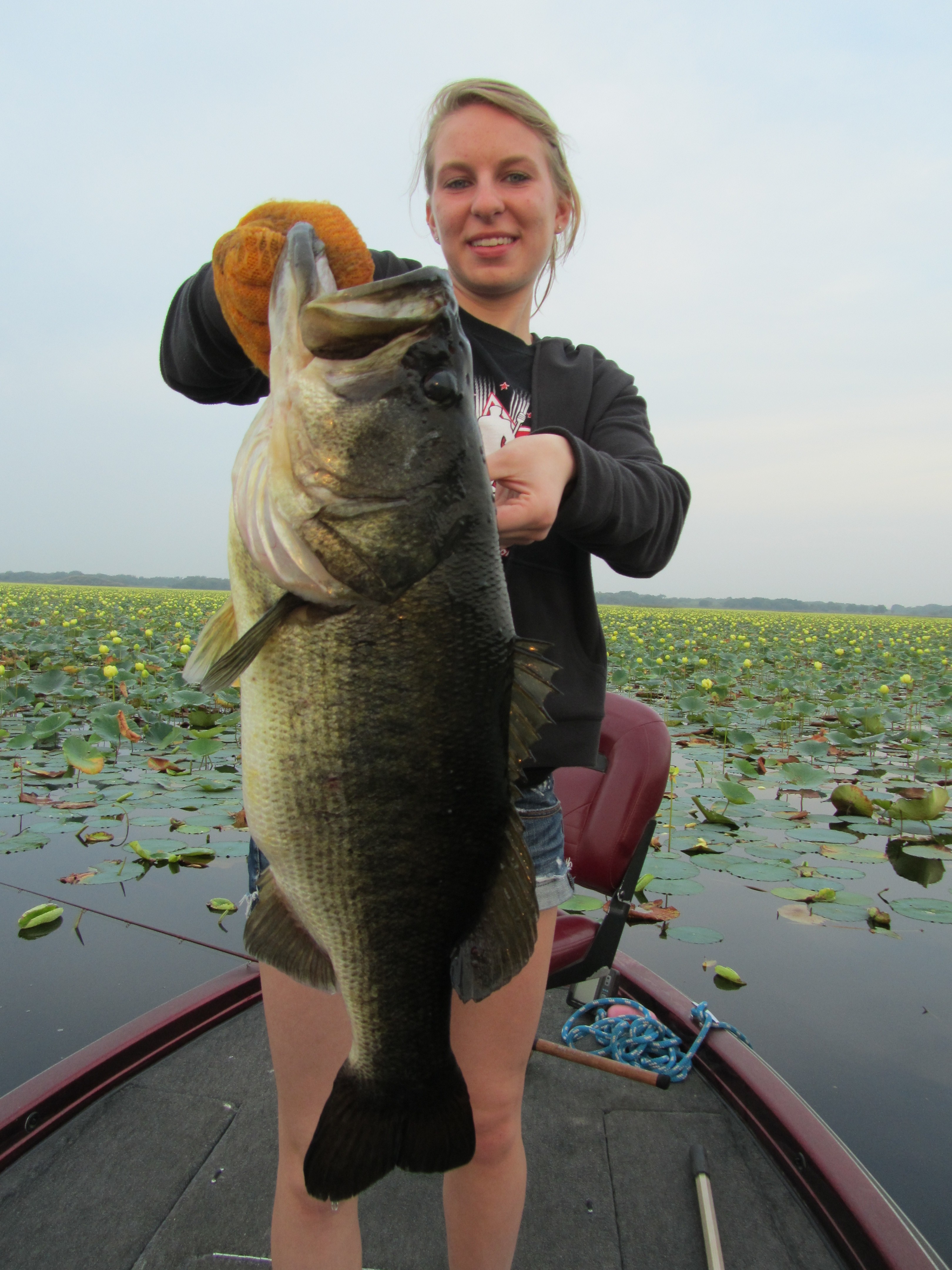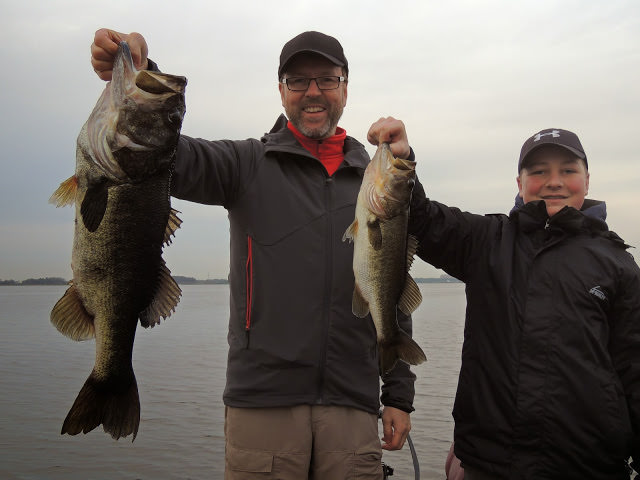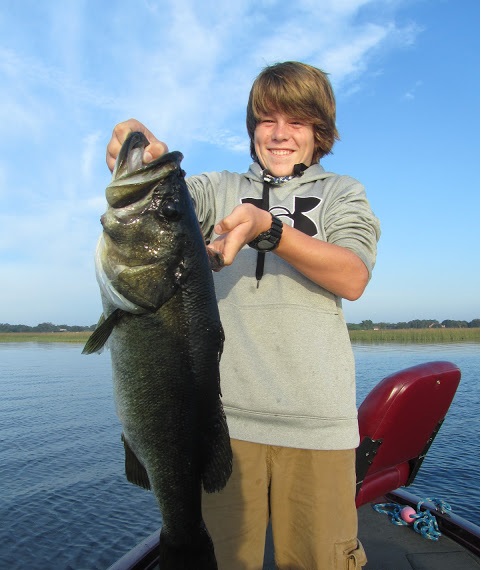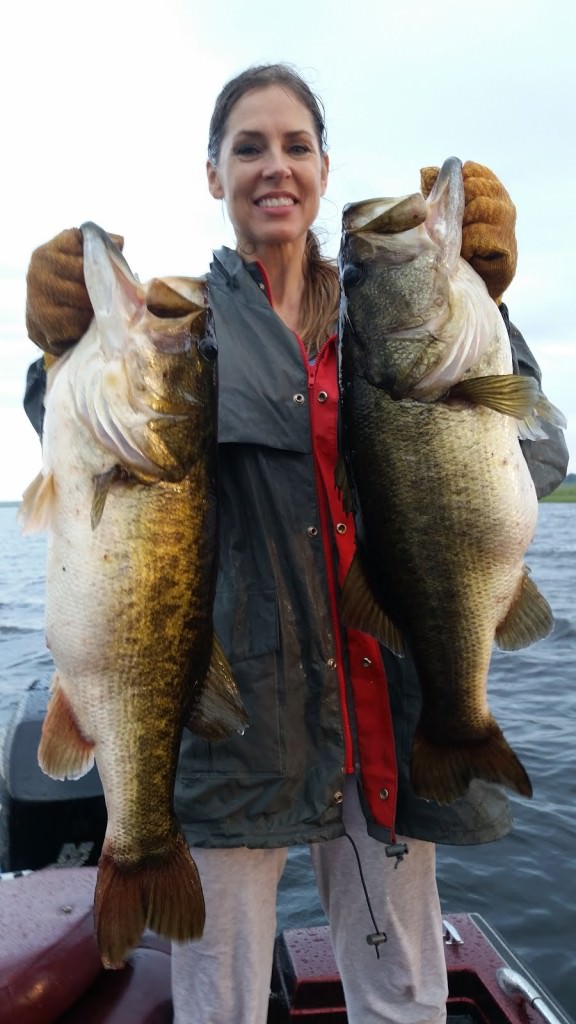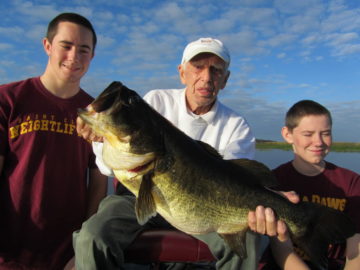 Lake Tohopekaliga, FL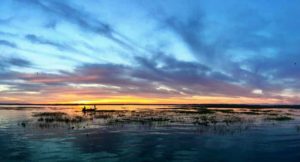 Enjoy a day of Bass fishing on this world renown lake while listening to the sounds of nature on one of the Central Florida / Disney area's most beautiful bass fishing lakes. West Lake Tohopekaliga (Toho) in Kissimmee / St. Cloud is just minutes from Disney and many of Orlando's other world-famous attractions. Still Toho remains one of Central Florida's most beautiful, unspoiled treasures. West Lake Toho is a 22,700 acre shallow lake with a length of 13 miles and a maximum width of over 4 miles.
West Lake Tohopekaliga and the Kissimmee Chain of Lakes are located just south of the city of Kissimmee and are the headwaters to the Everglades ecosystem. Approximately 1/3 of the lake is made up of maidencane grass and bullrush reeds.
This lake is well known among serious fishing enthusiasts as the top Florida destination to catch trophy bass. In the 2016 issue of Bassmasters top 100 lakes they called Toho "The most consistent lake in the country for catching both trophy sized bass and numbers". For more information on Lake Toho visit our About Lake Tohopekaliga page.
Get Paid to Catch Giant Bass!
That's right! Florida is the only state that pays YOU to catch trophy bass. We participate in Florida's Trophy Catch program which means if you catch a fish on one of our Orlando fishing charters that is 8 pounds or over you will receive a $100 Bass Pro shops gift card and be automatically entered in a drawing to win a brand new Phoenix Bass boat, along with other rewards! All you have to do is send the pictures of the fish on a scale into the Trophy Catch website at www.trophycatchflorida.com
Rewards for a 8-9.99lb bass:
Gift Cards worth $100 (Bass Pro Shops and/or Rapala)
SpiderWire Stealth 30# Moss Green line 125 yds
New Wave Taxidermy 25% replica mount discount
Phoenix Bass Boat drawing 10 extra chances
TrophyCatch certificate & Lunker Club decal
Rewards for 10-12.99lb bass:
Same as above with a $150 gift card instead of $100.
Rewards for 13lb or greater:
Gift Cards worth $200 (Bass Pro Shops and/or Rapala)
Free fiberglass replica mount ($500 value)
SpiderWire sweatshirt and sunglasses*
Free Fitzgerald Rod*
Phoenix Bass Boat random drawing 10 extra chances
TrophyCatch certificate & Hall of Fame Club decal 
The Boats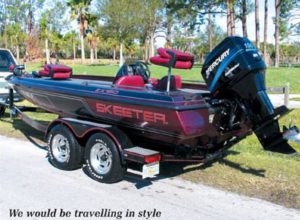 Most of our Orlando fishing trips will take place on Captain A. James Jackson's 18' 3", Skeeter NFL Limited Edition ZX180.
This boat is equipped with a Mercury 150 horsepower fuel-injected engine and will travel at exhilarating speeds up to 70 mph!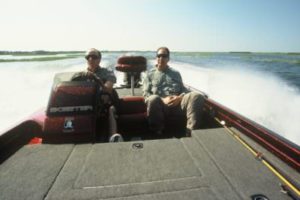 Smooth dry and stable... The perfect way to relax and enjoy a day of bass fishing on Lake Tohopekaliga.
Learn how we fish at Freelancer guide service
Learn how we fish on on Orlando fishing charters with Captain Jackson's chapter on shiner fishing in the In-fisherman Critical Concepts Largemouth Bass  book. Which is one of the most sold books in bass fishing! In it Captain Jackson explains the special techniques that him and his Florida bass fishing guides use and how shiner fishing is THE #1 best technique for catching trophy bass and how 90% of all the bass caught in Florida that are 10lbs or more are caught on shiners.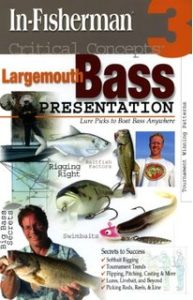 History of the guide service
Arthur Jackson or "Jamie" as most refer to him as, first learned of lake Toho from a Bassmasters magazine in the 1970's, his dad and him would come down from Maryland every year and fish with Captain Ed Chancy or one of his guides on one of his Orlando fishing trips. After years of coming down and fishing Toho, Jamie was amazing at the idea of guiding and fishing for a living. At the age of 11 he made the decision that when he grew up he wanted to work as a Florida bass fishing guide for Ed. So when he was finally able to buy a boat at the age of 20 he came down to Florida to start his dream. He began as a guide working for Ed while living out of a tent in Richardson's fish camp. After 6 years of guiding he became partners with Ed who became like a second father to Jamie teaching him all he knew about fishing. After many years of running the business together Ed died of a heart attack while on the lake in 1998. Jamie continues to this day to run the business and be a Florida bass fishing guide.
AJ's Freelancer Bass Guide Service in the News
click the image below to read the articles