Summer Forecast: July, August, and September:
Summer is a great time to fish Lake Toho in Kissimmee, Florida — during the early hours of the day, that is. The weather in Central Florida is almost always nice in the morning — sunny and clear – but the air heats up quickly as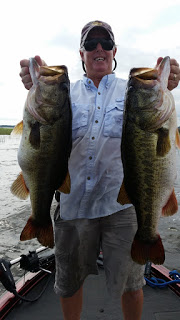 the day wears on. Air temperatures are usually in the mid 70s at daybreak, in the mid 80s by 10 AM, and in the low to mid 90s in the afternoon. During the months of July, August, and September, we recommend our clients book their trophy bass fishing trips for no more than 4, 5, or 6 hours, beginning at daybreak. The first 3 1//2 hours of daylight can be some of the most productive fishing of the year! Although, this is our rainy season, the thunderstorms usually don't occur until late afternoon or evening — some time after our fishing adventure has ended for the day.
Lake Conditions: Water temperatures range from the mid-80s to the upper 80s. Over the winter and spring months, the lake levels are gradually lowered about 2 ½ feet to prevent possible flooding conditions during our summer rainy season. As the water level is lowered, the bass move out to open water hydrilla fields, where large numbers of bass congregate in groups. When the bass relocate to this deeper water, we relocate, too. No need now to catch one fish here and another over there. We anchor our boat in or near the hydrilla beds and catch good numbers of fish at each location before moving on – a more efficient use of our time.
Average Catch: During the summer, the number of bass caught on 4-hour trips generally ranges from 10 to 15. When bass are more aggressive and active, a catch of 20 to 30 can be expected. Even on the worst of days, you can look to catch 5 to 8. The average size bass is about 3 pounds. However, 5 pounders are caught almost everyday. Catching a 7 to 8 pound bass is fairly common, but it is not everyday you land one. As for 10+ pound trophy bass, we catch at Toho all year round – just not as many during the summer as in the cool winter months, when the bass feed throughout the day. But, you never know what will happen – an 8 to 10 pound lunker may be your very next fish.
Bait: As always, we recommend wild shiners for numbers of bass—and especially trophy-size bass. Artificial lures also can be very productive, provided you have the right conditions. Top-water baits are favored for early morning fishing. Plastic worms, flukes, sinkos, rattletraps, and spinner baits are the most productive lures used on Lake Toho and the Kissimmee Chain of Lakes. So whether you prefer wild shiners or artificial lures, give us a call and we'll set you up with a great fishing adventure on beautiful West Lake Tohopecaliga – the Number #1 Trophy Bass Lake in USA!
Captain's Note: The popularity of trophy bass fishing on West Lake Tohopekaliga in Kissimmee, Florida (just minutes from Disney World and the Orlando theme parks), draws fishermen and their families from all over the country and many nations abroad. You will want to make your reservation for a guide trip as early as possible to help ensure that Capt. Jackson or one of his experienced bass guides is available.
Come on down to Kissimmee and find out for yourself how big we grow trophy bass here at Lake Toho. Experience the tug of an 8 to 10 pound monster on the end of your line – and test your skill at landing your trophy of a lifetime. Why wait? Book your trip now!