With the cooling temperatures of fall the bass fishing has really picked up on Lake Toho. We've gone from catching an average of 10-15 per day to 20-30 on our guide trips! And of course the big fish bite has increased also. We're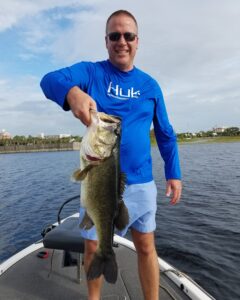 getting chances at fish 7 pounds and bigger nearly everyday. If you live near the lake or are able to make a trip now is the time to be fishing Toho! Since they halted all chemical killing of the hydrilla in the lake the water is cleaner then I've ever seen it. There are literally so many spots you can catch them in right now it's crazy… whether you're fishing the north, middle, or south end of the lake you can catch them good. As long as they keep from spraying any of the hydrilla and continue to harvest it instead, I foresee this great fishing to continue all the way through the winter. And I'll tell ya, I'm excited.
Now the lake as a whole is fishing pretty great right now but there are some things you're going to want to key in on in order to produce some of these great days. Now I always say this and I'm going to keep repeating it because it's the truth. Whenever you have a good population of hydrilla in a lake that is where those fish are going to be. Whether it's offshore shallow or anywhere between. Right now the lake has the biggest population of hydrilla that it ever has had. So that is almost solely what you want to be targeting. Now there is an exception on the south end of the lake right now and I'll get to that in a minute. But for the mid to north end of the lake you're going to want to target the same stuff I've been telling you in the last two fishing reports. Clean healthy hydrilla. The one difference is that I've been able to pull some nice fish off of older hydrilla edges that have essentially stopped growing and are coming off of grass lines. So don't be afraid to target some of these areas especially in the early morning with a speed worm or frog and flipping later in the day. They're less pressured then some of the other freshly growing hydrilla patch bass.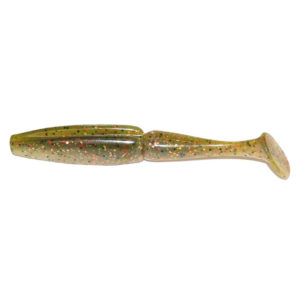 Now the south end of the lake has a ton of hydrilla and because of this a lot of the fish down there have been forced up into the Kissimmee grass and reeds. That's where you'll find them down there. You want to target boat cuts and open areas back inside the grass. Big EZ's are what the best bite has been on. Just reel them through the Kissimmee grass and the fish won't be able to resist.
As always shiners have been out producing everything. If you're in the right area you can easily put 20 fish in the boat in a couple hours along with some big ones. The shiner bite has been pretty fast for the first few hours in the morning.
Hopefully some of you can take advantage of the special fishing that we have going on right now. If you'd like to book a trip feel free to give us a call at 407-288-9670 or email us at ajsbassguides@orlandobass.com and you can be part of the action!
Bass wishes,
Capt. AJ
Want to be notified of our latest deals, news, fishing reports/blogs, and Youtube videos?!
Subscribe to our email list below!