It's my favorite time of year for bass fishing here on Lake Toho in Orlando Florida. The weathers nice but more importantly the bass are biting and they're biting allllll day. That's right, it doesn't really seem to matter what time you go out you're gonna catch them. I've been averaging 20 to 40 fish a day on my guide trips! Some days more than that. Even after cold fronts. It's unbelievable. I've been slacking on writing fishing reports simply because I've been fishing everyday trying to experience every last minute of this! But I'm going to make up for it with this one. I'm going to give you the complete run down on what's going on with the bass fishing here in Orlando's Lake Toho.
To begin with the fish are in all stages right now. There's pre-spawn fish, spawning fish, and post-spawn fish. So the bass are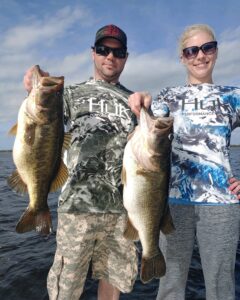 kinda spread out but also grouped up if you understand what I'm saying. You may have to bounce around a little bit but once you get on a group of them you're on them and you can just sit and milk the area. As always it doesn't seem to matter what time of year it is the best concentration of big fish (and I'm talking real big fish 8 pounds and up) are off-shore on hydrilla. That's just always where the big girls like to be and feel safest. These off-shore hydrilla area's tend to be best during the morning and slow up after about 9:30am. So its best to start out there then begin to move in as the day moves on and things heat up which is when the shallow spawing areas tend to work best. Same type of hydrilla that I always talk about. Good, clean, growing hydrilla that tapers down underneath the water.
Now on the outside edges of the Kissimmee grass and back inside the grass you have the pre-spawn/spawning areas. This is where the most consistent bite has been. Lots of males and some fatty females can be caught here. But you can't just go up inside any grass line and catch them. Lake Toho is absolutely full of maidencane, kissimmee grass, lily pads and reeds. It ALL looks good and it looks like you can just go down any grass edge and catch them. But if you do that you'll quickly find out that that's not the case. What you have to look for is the best OF the best. What I mean by that is you have to find areas of mixed types of vegetation with cleaner water. Area's with lily pads mixed with kissimmee grass and reeds maybe with a little bit of submerged vegetation on the bottom with good water clarity. This is the best OF the best and that's where a majority of the fish will be grouped up. Additionally any area with a good group of lotus pads (those are the one's that are flat and float on the surface) is a good sign of a spawning area because they will ONLY grow on hard sand bottom and there always seems to be groups of fish around them at this time of year.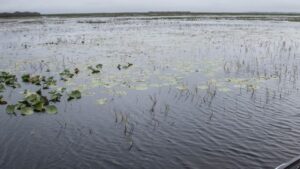 Once you find one of these area's you have to slow way down and completely pick apart these area's. The fish are there you just have to slow down and figure out exactly what they want and how they want it. I watch people fish around me everyday without seeing them catch much simply because they are moving too fast.
Okay so now on to what everyone wants to know… what they have been biting. Well anyone who's been following me knows that hydrilla and jerkbaits are a deadly combination and it still holds true. For the offshore hydrilla spots both a regular 1-3ft diving jerkbait for the thicker hydrilla and a deep diving jerkbait for the deeper stuff has been the best bite. A swimjig has been the next best bite and can produce some quality fish and a speedworm is another good choice. Also on day's where there isn't much wind a topwater walk the dog bait has been producing fish also.
Now for up around and inside the Kissimmee grass a Big easy swimbait with a lightly weighted hook reeled slowly over the top of the grass and lily pads has been the best bite and has been producing some good quality fish. Additionally a weightless fluke pitched in holes and along the edge of the grass has been the best numbers producer. Just pitch it around like you would a weightless senko and let it sink to the bottom. For some reason it's been getting bit better than a wacky rig! But a wacky rig is another good option. Finally a lightly weighted senko flipping into thicker reeds and lily pads around these area's has also been productive and a lot of fun! Flipping is my favorite way to fish.
Due to the way the state has been managing the lake it has been fishing fantastic and you don't want to miss out on the opportunity to fish it right now. No matter what the weathers been they've been biting so get out there and get you some! And if you can't get out there yourself we here at AJ's Bass Guides would be glad to give you the experience of a lifetime here on Orlando's Lake Toho. Just email us at ajsbassguides@orlandobass.com or call at 407-288-9670.
Bass wishes,
Capt. AJ
Want to be notified of our latest deals, news, fishing reports/blogs, and Youtube videos?!
Subscribe to our email list below!