Winter Forecast: January, February and March:
Winter is in full swing. If you get the right conditions, Toho can be one of the best lakes in the country. But when you don't get things just right, fishing can be difficult — and "just right" means a stable barometer. Water temperatures fluctuate widely at this time of the year. Before a cold front, they are usually in the low 60s. After the front passes, they tend to dip into the 50s. On some occasions, water temperatures even rise into the 70s.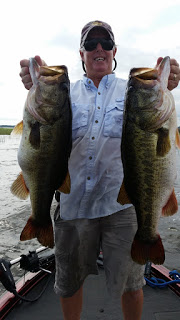 Changing Conditions: Be prepared for changing conditions. Wintertime angling can be feast or famine. When a cold front comes through, the fishing can be thrown into a tailspin. But, cold fronts in February are not as severe and occur less often than in January. Just as fishing can be tough after a cold front, it can be incredibly productive before a cold front. Before the front, the fish are willing to bite on top water lures, creating potential for the use of soft jerk baits and white spinnerbaits.
Stable Conditions: A gradual warming trend can bring phenomenal catches. Stable weather conditions over a period of days can culminate in hordes of big, egg-laden females moving up to spawn, making them easy pickings for anglers like Dean Rojas, who broke several all-time tournament records at the historic Bassmaster Classic held at Lake Toho in 2001. Rojas attributes his success to prevailing conditions that enabled him to sight fish in an area known as Shingle Creek, one of the best fishing spots on Toho. Other popular destinations on the lake are grass fields in areas known as North Steer on the southern end of the lake, Whaley's Landing on the southeast end of the lake, and Brown's Point, which abuts a spawning flat on the back side and is situated on the southwest end of the lake.
First Spawn: With the first spawn, which occurs during our winter season, Toho's staging areas are alive with their greatest numbers of fish. To locate them, check out the maidencane grass fields. Maidencane grass is the predominate vegetation near the spawning grounds, areas having firm, sandy bottoms. The concentration of bass in these locations sets the stage for a lot of action. January through March is peak season for trophy bass fishing in Central Florida — and the busiest time of year for our professional bass guides. Be sure to ask your guide take a photo of you with your trophy catch.
Choice of Bait: After a few days of good weather, artificial lures (mainly top water baits, plastic worms and soft jerk baits) can produce some decent catches. But, with typical winter weather patterns continuing from the first of the year until spring, wild shiners remain your best assurance for both good numbers and size. Keep in mind, however, that after a cold front passes, producing bass with either kind of bait can be difficult.
Average Catches: Winter is our favorite time of the year for catching good numbers of big Florida black bass. Setting your hook on upwards of 25 largemouth bass is not unusual, and you can expect plenty of them to be in the 4 to 7 pound range. When it comes to the 10+ pound monsters you read about, each of our guides sees 2 or 3 caught every week. We assure you, your bass guide will put you on plenty of bass — but it's up to you to get them in the boat! For every half dozen you land, you are likely to lose one or two in Florida's grassy waters.