Ahhh the good old consistency of Florida summer bass fishing. For the most part not much has changed from last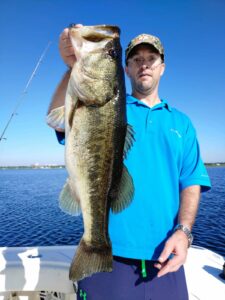 months fishing report to this months. Except for one key factor. The big fish bite. For whatever reason the big fish bite has picked up from last month and I'm not complaining. It's been fun! While the average total amount of bass we've been catching remains the same, the amount of fish 7 pounds and up has increased and become much more consistent. Now getting them to the boat has been a different story…  unfortunately we've had a lot of these fish either jump off or pull off in the hydrilla! But that's just part of fishing this thick hydrilla.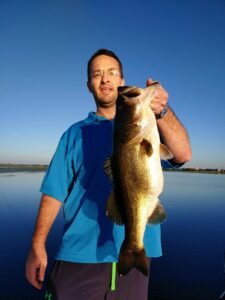 Now the patterns have all been the same from last months with one exception. The running water. The lack of rain that we've had the last few weeks has made the running water bite not a very viable option. All of our fish recently have come from the outside edges of hydrilla and shell beds. The lanes in the open water hydrilla left from the hydrilla harvesters have sometimes been productive also. But I've found that they are really inconsistent! One day you can catch them good in the lanes and the next you're wasting your time… I've found that these fish in the lanes don't like really any wind. When you have a nearly windless day you can catch them and if their is any type of decent breeze putting a nice ripple on the water they are no where to be found.
Shiners have been the best for the big fish bite. We're getting chances at fish 7+ pounds nearly everyday on them! But for artificials the same as last month has been whats been productive. Speedworms in the hydrilla, frogs, worms on shellbeds, and jerkbaits have been the ticket.
All in all the fishing has been pretty fun on Lake Toho lately! If you're looking to book a trip and be a part of the action feel free to give us a call at 407-288-9670 or email us at ajsbassguides@orlandobass.com
Bass wishes,
Capt. AJ
Want to be notified of our latest deals, news, fishing reports/blogs, and Youtube videos?!
Subscribe to our email list below!