Because the FWC has halted the use of chemicals to kill off unwanted grass the lake as a whole is in a much better state than it has been in a long time. Healthy grass can be seen all over the lake and even healthier bass are being caught. As long as the FWC can keep the invasive hydrilla from over taking the lake with their hydrilla harvesters the lake should be producing record numbers of bass in the coming years!
Rain, rain, and more rain has pretty much described the weather we've had. But luckily the rain has been good! With all the rain tons of water has been flowing into the lake causing water levels to go back up to their normal levels. Which is good for your lower unit because running some parts of the lake as low as it was can be sketchy!
Now that the lake is full the Core of Engineers has opened the locks on both East Lake Toho and on the south end of West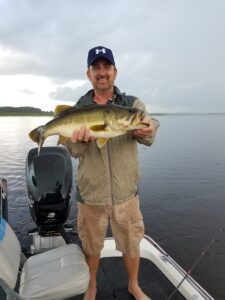 Lake Toho to let water out. And as always where you have flowing water you have bass stacked up in-front of those places. Both of the locks and the creeks running into the lake have been very productive. You don't even have to move in most cases. Just anchor up and start throwing. Rattletraps, worms, and topwater (when the fish are busting the surface) have all been productive.
Shell beds have also been productive for catching good numbers of bass as water flows down the lake. The outside edges of certain hydrilla patches have been more consistent for bigger fish. Frogs, speedworms, and flipping have all been productive in those areas. If I were fishing a tournament right now I'd just focus on the hydrilla patches for the bigger fish.
As always at this time of the year due to the heat it has been a strict morning bite. The fish are condensing all of their feeding into this time. You've got about the first 4 hours in the morning until the bite all but shuts down. The fishing has been fast early morning so it's important to get out as early as you can!
If you're in Orlando and looking to go bass fishing we've been averaging around 15 per day on our charters. Some days over 20 with one around 7 pounds being common. The 2 1/2 hour and 4 hour trips are the recommended trips.
Bass wishes,
Capt. AJ
Want to be notified of our latest deals, news, fishing reports/blogs, and Youtube videos?!
Subscribe to our email list below!