The heat of the summer is here on Orlando's Lake Toho and the usual summer patterns are in full affect. Which means you can have some awesome days as long as you're targeting the right areas… With the water temperatures rising the fish's metabolism is at it's highest which means that all the bass in the lake are more keyed in on their food source more than any other time of year. Matching exactly what the fish are feeding on is extremely important and can make the difference between having a disappointing day and an unforgettable one. Most day's we've been catching good numbers on our guide trips and fish over 7 pounds have not been uncommon.
As always with these fishing reports I like to keep things simple and get straight to the point. First let go over what area's to target then what baits to use.
The heat brings changes in water clarity. Which means finding clearer water can be crucial. The heat will also make the bass move out to deeper cooler water. But ONLY if there is sufficient cover out there for them. Because Florida lakes tend to not have any bottom structure in them at all (For example creek channels or ledges) bass will only move off-shore if there is cover present for them like hydrilla, shell beds, or brush piles.
To break it down for you the area's you want to be targeting at this time of year are…
1. Moving water: any creeks flowing into the lake or open locks with moving water will always hold fish. The water is usually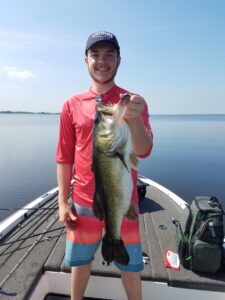 4-5 degrees cooler than the rest of the lake and the flowing water brings food to the bait fish which in turn brings the bass. Using topwater, rattletraps, and small spinnerbaits have been most productive in these area's as the forage that these fish are eating are shad. These fish tend to only bite for the first few hours of the morning however and it is important to understand that most of the fish in the entire lake are going to condense there feeding into the morning hours.
2. Hydrilla/ Eel grass: bass can be found in hydrilla year round and with so much hydrilla in the lake right now it can be tough to find good groups of fish in it. That's because they are stacked up in the best of the best looking hydrilla so I'm going to help break it down for you so you can find the best of the best hydrilla and eel grass.
First things first if the vegetation you're fishing does not look healthy LEAVE right away. You have to be fishing healthy growing hydrilla/eel grass. Ideally you want to find hydrilla that is actively growing out. Meaning you're sitting off the thick hydrilla and underneath your boat on your fish finder you can see there is hydrilla or eel grass growing on the bottom under you.
If you can find an area like that combined with cleaner water… you have just found a goldmine and I guarantee their is a giant group of fish living there. Speed worms, swimjigs, jerkbaits, soft plastic swimbaits, spinnerbaits, and lightly weighted worms have all been productive. Again matching the hatch is key. Keep an eye out for any sign of the bait fish they're feeding on. If it's bluegill use a bluegill colored swimjig or swimbait, if it's shiners or shad use a shad colored jerkbait, swimjig, spinnerbait, or swimbait.
3. Shell beds/ brush piles: I put these two together because they fish very similar. Just like hydrilla bass live on shell beds/brush piles in Lake Toho year round. The difference between shell beds/brush piles and hydrilla though is there is a lot less of them and they can be harder to find. If you can find a shell bed though I promise there's fish on it. Using a lightly weighted worm, senko, shaky head, or neko rig can all be good ways of catching them.
To sum it up as long as you're fishing the right stuff you can have some great day's of fishing right now on Orlando's Lake Toho.
Bass wishes,
Capt. AJ
Want to be notified of our latest deals, news, fishing reports/blogs, and Youtube videos?!
Subscribe to our email list below!