The bass fishing is much different now than is was last year at this time on Lake Toho. That's because the way the lake is being managed is far different from last year. Because of the issues down on the big O (Okeechobee) the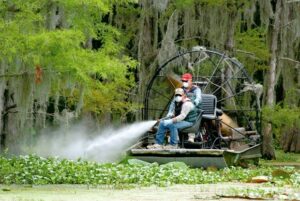 FWC halted all spray operations for the state in late October. They conducted public meetings with the intention of finding out how the public wanted the lakes to be managed. What they found out was that the people wanted the hydrilla to be mostly left in the lakes. Instead of spraying it with chemicals and constantly killing it off. These fish love the hydrilla which is an invasive species and whenever it is present they immediately hop in it. Which can make for some great fishing. Now the state still understands that the vegetation must still be managed otherwise it will take over an entire lake. So they are going to attempt other methods of controlling it such as harvesting.
Now what does this have to do with Lake Toho? Because all of the hydrilla in the lake has been untouched the lake is full of it. Also since no chemicals are being put in the water other types of vegetation are thriving. Massive beds of eel grass (which is native to Florida) are growing like never before. The lake is in the best state that it has been in in a long time. Which has made for some great fishing. When given the option these Florida fish will always live offshore. Especially the big ones. And with all this offshore hydrilla present all the fish are stacked up in it. Catching over 20 bass a day with the biggest 5 weighing 20 pounds is a common day to day occurrence on our artificial guide trips and the live bait trips have been even better.
Focusing on this offshore hydrilla has been the key. You want to find areas of hydrilla that is still growing. What I mean by this is if you're fishing a hydrilla patch and underneath your boat on your graph there is clean bottom and no hydrilla growing out from the patch on the bottom you're most likely fishing dead water. Now if you're throwing at a patch of hydrilla and you see that the hydrilla is growing out on the bottom 40ft or more than you're in a key area. Now of course there are exceptions to this rule and there will still be fish in the patches that have stopped growing. But I can guarantee you that the much bigger groups of fish and more consistently biting fish will be in that hydrilla that is still growing.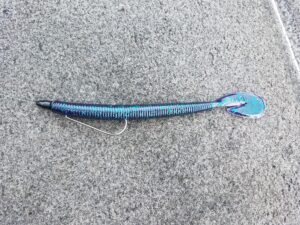 Now whats the best bite been on? If you would've asked me that a month ago I'd of told you throw a jerkbait and nothing else. But now that the bass are completely done spawning and for the first time the mighty jerkbait is being out produced by probably the best all around Florida bait out there. Speedworms. These stupid things catch bass in Florida year round. On just a regular worm hook with a 3/16 ounce weight, reeled nice and steadily through the hydrilla you can hammer bass. And big bass too. Just a few day's ago I was out on my day off and we caught 17 with the biggest 5 weighing 21 pounds. But we were eclipsed by my buddy who was fishing not too far from us on the same stretch. He caught two 9 pounders! 18 pounds of bass in just two fish! All on speedworms. The great thing about these lures is there versatility. Not only can you just steadily reel it through the hydrilla, you can also kill it and work it slowing like a worm, or even rig it weightless and reel it across the top. Although the steady reel has been the best producer.
So as you can see Lake Toho is fishing extremely well and with the lake being managed much differently now, it's exciting to see what the future holds for this amazing fishery.
If you want to fish with me feel free to give me a call at 407-288-9670 and I'll get you set up with a day on Lake Toho that you'll hopefully never forget.
Bass wishes,
Capt. AJ
Want to be notified of our latest deals, news, fishing reports/blogs, and Youtube videos?!
Subscribe to our email list below!