Lake Toho this summer is healthier than ever. With the FWC not spraying any grass on the lake at all this year, there hasn't been any algae bloom like years prior. Which has made the water quality and fishing throughout the whole lake solid. We've been catching an average of 20 to over 30+ fish a day on our guide trips and with conditions holding strong, it should remain that way for the rest of the summer.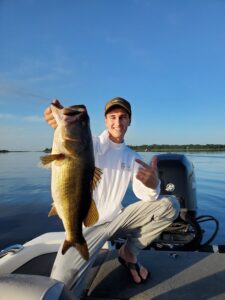 As usual at this time of year, the bulk of the bass have moved offshore to hydrilla beds, brush piles, and shell beds. Most of them can be found in hydrilla. If there's hydrilla off the Kissimmee grass edge, chances are there's bass in it.
The best bite in these hydrilla areas has been on Zoom flukes, senkos, and Zoom speedworms. If you have a good wind and clouds, a lightly weighted speedworm reeled across the top of the grass has been working well. But if you don't have the wind or clouds then a fluke or weightless senko has been more productive.
In the areas of shell beds that have bass, topwater has been working early, with flukes and senkos becoming productive when the topwater bite quits. They haven't been schooling consistently in these areas though which can make the topwater bite inconsistent.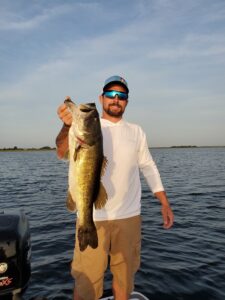 The brush piles have the toughest bite right now out of the 3 areas these bass are in. But it can have the biggest pay off as the fish coming off the brush piles tend to be big. While the bite has been completely inconsistent and can sometimes just be completely dependent upon the weather, the ones we are catching are coming off of worms and craws dragged on the bottom with either just a light bullet weight or a shaky head.
However if you're looking to book a trip and want to get the most out of your day, golden shiners have been the way to go. The bulk of the fish we're catching right now are coming off of shiners and its what we've been getting most of the bigger bass we've been catching off of also, regardless of the weather.
Lake Toho just continues to impress with the number of quality bass being pulled out of it this year and with the water quality being better than I've seen in years, it should continue to produce the fish that's made it famous for years to come.
So come be a part of the action!
Capt. AJ
Any questions? Or want to book your trip? Feel free to call us anytime at 407-288-9670 or email us on our contacts page.