This has been our BEST year we've ever had catching trophy sized bass on Lake Toho so far and it hasn't let up. The lake continues to produce 7+ pound bass continuously and the water quality seems to be at the best its ever been with more natural grass like shrimp grass and pepper grass growing than ever before. We've been consistently putting 20+ fish in the boat on our charters with some days catching over 40! While shiners have been the best bite, this is also the best time of year for artificials, when 25-30 pound bags are caught regularly. These post spawn fish are hungry and looking to eat anything they can.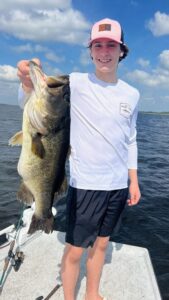 With these fish being in the post spawn stage and the lake being down two feet (as usual at this time of year) the bulk of the bass and bait have moved offshore to grass flats of hydrilla, shrimp grass, and pepper grass. There has also been plenty of schooling action throughout the lake and if you find one of these areas the topwater bite has been excellent. The best bite however if you're not on one of these topwater spots early in the morning has been on flukes twitched around on the bottom, speedworms reeled through the tops of the grass, and on senkos pitched and casted around both just open water submerged grass and around the edges of visible pepper and maidencane grass.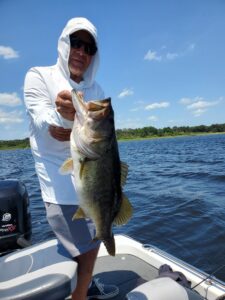 The lake as a whole has been fishing very well from north to south and it seems like we've been catching trophy bass throughout all of it! And with the summer historically being the time of year that all of the record size bass that have ever been caught out of Florida were caught, I'm very excited to see what the lake produces this year.
If you'd like to learn more about Florida's record bass and how they were all caught during the summer I've got a blog post just for you. Here's a link to it, its called Summer, The Best Time to Catch a Record Size Bass?
Capt. AJ
Any questions? Or want to book your trip? Feel free to call us anytime at 407-288-9670 or email us on our contacts page.
Want to be notified of our latest deals, news, fishing reports/blogs, and Youtube videos?!
Subscribe to our email list below!