The bass fishing on Orlando's Lake Toho has remained excellent this summer! We're continuing to average 20- 30 bass on our charters with 5+ pounders remaining common. The recent Icast cup which was held on the lake by Major League fishing, and had a 3 fish limit, was won with an incredible 21lbs! With the heat of the summer here the best bite is during the first few hours of the morning when these fish binge feed, so these numbers are all coming from our shorter 2.5-4 hour trips.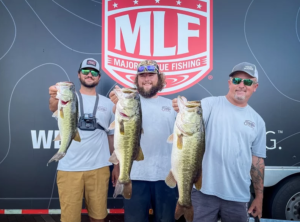 The reason for the consistently good fishing we're experiencing is because of the abundance of healthy hydrilla that we have in the lake which has exploded the bait fish population and which has in turn exploded the bass population.
With it being in the heat of the summer, the fish are all out in the deeper grass, brush piles, shell beds and in the running water that flows through the creeks and canals that run into and out of the lake with the summer rains we get.
Bass have been schooling on shad on certain shell beds and offshore hydrilla fields. In these areas topwater lures such as whopper ploppers and "walk the dog" baits have been working well to put fish in the boat. With rattletraps, flukes, and jerkbaits working when the topwaters aren't.
In most other areas of hydrilla where the bass aren't schooling on shad, speedworms, chatterbaits, and swimjigs in darker colors and just steadily reeled through the grass have been the ticket. Along with a topwater frog early around areas of topped out hydrilla.
The best and most consistent bite of all as always has been on large golden wild shiners. There's been some fast action catching both numbers and the big girls off of them early.
With the expanses of healthy grass continuing to grow fish populations this already famous lake is becoming even better and it seems that there isn't a bad time to fish world famous Lake Toho anymore. Anytime you're out here you can easily experience the best bass fishing of your entire life in the jungles of Orlando's Lake Toho.
-Captain AJ
Any questions? Or want to book your trip? Feel free to call us anytime at 407-288-9670 or email us on our contacts page.
Want to be notified of our latest deals, news, fishing reports/blogs, and Youtube videos?!
Subscribe to our email list below!