This has been one of the best years we've had fishing Lake Toho. We caught an absolute boat load of 8-12 pound bass this winter and it just keeps continuing. The core of engineers has lowered the lake to it's low pool (which they do every year at this time to simulate the dry season) but with all the offshore hydrilla that is in the lake the fish have moved out into it and the bite has remained strong. And that's where they're at right now, the summer offshore bite is in full effect and the big girls are holed up in the thickest of it.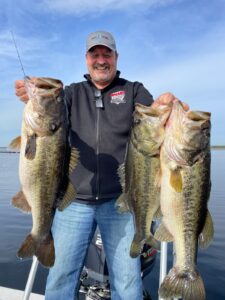 Both the shiner and artificial bites have been effective. With the shiners of course giving you your best bet at a true giant. We've been continuing to pull in consistent bass over 8 pounds. Just check out our Instagram @orlandobassguides.
With the bulk of the bass moving offshore there's a few different things that they'll move too. Most of them are in off shore hyrdilla. But with all the hydrilla on the lake it can be overwhelming. Here's how you decipher it. Most of the fish will be on the outside edges of the it and in isolated patches that are off the main mats. Finding those isolated patches is the key to getting on them and staying on them consistently. That's where the big girls sit. Reeling speedworms, swimjigs, and chatterbaits through the hydrilla has been the best bite on these areas with frogging and flipping coming into play when the wheather calls for it.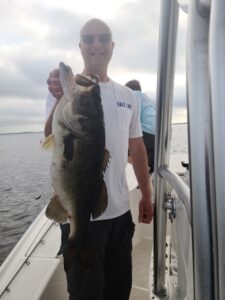 There have also been groups of bass schooling on shad in certain areas of the lake. While the areas they school in are kind of random, once you find one of the these areas they tend to chase bait there consistently everyday. These areas can be fun with topwater often being the best thing you can use, rattletraps, and jerkbaits have been boating good amounts of schooling fish also. Catching over 20 fish in a short amount of time in these areas is not uncommon.
The third and final spot fish have been moving too are brush piles. Most of the best brush piles are all unmarked. The ones marked with buoys tend to be overfished and it can be tough to get a good bite on them. Finding the unmarked ones can be tough but it can pay off when you finally locate a few. Now brush pile fishing can be very inconsistent. They'll bite one day and the next, nothing. But the days they are biting it can be unforgettable. Catching multiple bass over 7 pounds in a day is not uncommon. What they're biting can change day to day but common brush pile techniques are bullet weighted worms, shaky heads, crankbaits, and bottom jigs.
With no algae bloom happening at the time of year like previous years the fishing hasn't slowed a bit from the winter. Now's as good of a time as ever to be fishing Lake Toho, and it could be the time you catch your fish of a lifetime. After all you can't do it if you're not fishing!
Be a part of the action here at AJ's Bass Guides.
Capt. AJ
Any questions? Or want to book your trip? Feel free to call us anytime at 407-288-9670 or email us on our contacts page.
Want to be notified of our latest deals, news, fishing reports/blogs, and Youtube videos?!
Subscribe to our email list below!