The peak season for catching trophy size bass here in Florida is upon us. And the lake is setting up just right for it to be a year of rich harvest for us trophy bass fisherman. With massive patches of offshore hydrilla, the lake level as high as it can be, and the water throughout the lake cleaner than ever, we've been consistently pulling in bass over 7 pounds no matter what the weather. Just check out our Instagram @orlandobass1 or Facebook @freelancerbass to see them for yourself!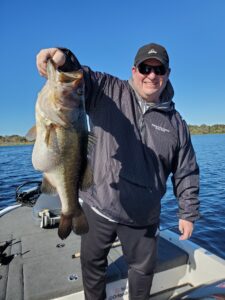 The bass are fatter than ever filling up with eggs so they can spawn. With the extra weight in their bellies, they're weighing heavy too. 6 pounders are weighing 7, 7's weighing 8, and so on. They're at their meanest too. Some of these fish are putting up extreme fights!
It's the best time of year for big fish and we're working overtime to put as many of Lake Toho's big girls in the boat as possible. We're trying to break our big fish record during the winter months, and the way it's going, it's looking like we might just do it!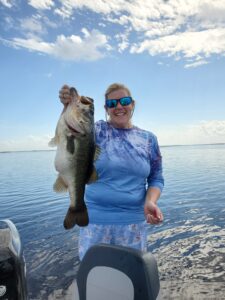 The bass are in all stages. Pre-spawn, spawn, and post-spawn. And they're in all levels of the lake. We're catching fish offshore, on the outside edges of grass, and up shallow. January through March is a fun time to fish here because bass can be caught so many different ways. You can start offshore on hydrilla then move up inside the lilly pads and grass and catch good fish both places. You really get to experience all the lake has to offer!
If you're looking for trophies, large golden shiners are the way to go. While we get 8+ pounders on artificials, they are much more consistently caught on the shiners. But if you want to go with artificials, jerkbaits, chatterbaits, rattletraps, flukes, and flipping have all been catching good fish.
Any questions? Or want to book your trip? Feel free to call us anytime at 407-288-9670 or email us on our contacts page.
Want to be notified of our latest deals, news, fishing reports/blogs, and Youtube videos?!
Subscribe to our email list below!
Bass wishes,
Capt. AJ