The bass fishing on Toho remains solid as we move closer to the peak winter time spawn in January, February, and March. Fish continue to constantly chase shad and shiners around feeding up for the upcoming months where they will be at their biggest. They're already getting fat, really fat, and not because they're filling up with eggs but because they're filling up with so much bait! They're all beginning to weigh more and more.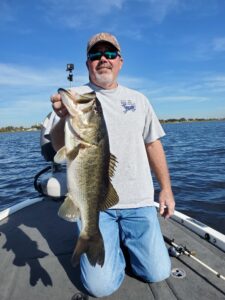 We continue to be averaging catching 20- 30 on our 4 hour trips, and on our longer trips some days well over 40 bass on live bait! But with the recent cold fronts the artificial bite has become inconsistent. So we recommend going with the live bait to get the most out of your day right now.
The bass are still sticking to the same pattern that they were on last month. And that's bait. The bulk of the fish in the lake are all congregated around large groups of shiners and shad in open water, feeding up for the upcoming spawn in the winter.
Finding the bait is the key to staying on good fish all day. They're all congregated together right now, the big fish and the little. So once you find a group of fish you have to just keep catching them and you'll pick off the big ones. Some bass have begun to move shallower in certain areas but the bulk of the bass are all still offshore on hydrilla, eel grass, and on the outside kissimmee grass edges.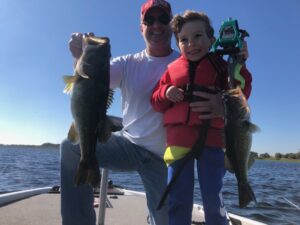 For artificials, topwater lures can be used to catch fish in areas where they are actively schooling and chasing bait. But the bulk of the fish are being caught off of jerkbaits and flukes as they best resemble the bait that they are chasing right now. Rattletraps have been working in these areas also, along with speedworms and chatterbaits swam through thicker grass.
The bass fishing on Lake Toho continues to remain consistently good as it has throughout this whole year! And this winter peak season is setting up to be an absolute extravaganza. And that may be the first time I've ever used that word! So if you're looking to do some bass fishing down in Orlando Florida this winter, now's the time to book because January, February, and March is our busiest time of year and days book up fast!
Bass wishes,
Capt. AJ
Any questions? Or want to book your trip? Feel free to call us anytime at 407-288-9670 or email us on our contacts page.
Want to be notified of our latest deals, news, fishing reports/blogs, and Youtube videos?!
Subscribe to our email list below!