It's finally time, the fall feeding bonanza has swung into full effect! And it's far better than I would've expected. The last few cold fronts we've had have turned on a feeding frenzy! So much so that on our shiner trips we've had to recommend extra bait because we've been running out early.
And for artificials, the topwater bite has been the best it has been all year. Since the FWC (Florida Wildlife Commission) has been leaving much greater amounts of hydrilla in the lake we've seen a fish population explosion over the last year. But no other time has it shown itself to be more evident then now. In many different areas throughout the lake the bass (big and small) have grouped up into massive schools chasing shad and shiners around endlessly feeding to fatten themselves up for the winter spawn.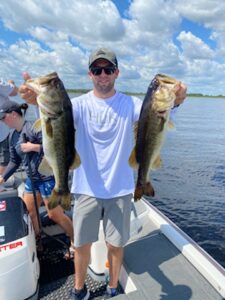 The fish remain congregated in ideal eel grass and hydrilla beds where the water is cleaner and also on certain shell beds and brush piles offshore. The bait is the key during the fall. Whichever area you choose, if you're not around the bait, you're not around the bass either. So keep moving until you start catching them cause once you do, you're liable to keep catching and catching. As always the live shiner bite has been the best and are what you're going to get the most out of your day with. We've been averaging 25+ bass on 4 hour trips and 35+ on 6 hour or more trips with shiners.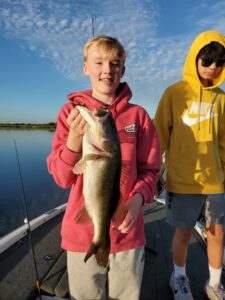 But if you're into artificial fishing, that has been productive also. As stated earlier the topwater bite is at it's best and the best thing to start with for the first hour or so, but it has extended far beyond that some day's. The bass are keyed in on the bait right now so the lures you're going to use are going to reflect that. Jerkbaits, Flukes, Rattletraps, and Spinnerbaits are the main lures. As long as you're around the bait we've been catching them.
The fact that the fishing on Lake Toho is better than anyone of us could of predicted right now is an amazing sign for the up coming months. And just the thought of what the fishing might be like during the winter spawn in January, February, and March is getting me excited. If you've been planning to fish Lake Toho, now through March is sure looking to be one for the books.
Bass wishes,
Capt. AJ
Any questions? Or want to book your trip? Feel free to call us anytime at 407-288-9670 or email us on our contacts page.
Want to be notified of our latest deals, news, fishing reports/blogs, and Youtube videos?!
Subscribe to our email list below!