That's right the biggest tournaments in bass fishing are on Lake Toho this year. Both the MLF (Major League Fishing) and FLW (Fishing League Worldwide) tour have events on Kissimmee's historic Lake Toho. What may be the biggest one of all is the new Bass Pro Tour created by MLF. This is the first ever year of it and the inaugural event is going to be held on our Lake Toho! Many of the biggest names in fishing from the Bassmaster Elite series and the FLW tour have defected to this new tour because it presents a fun new format for viewers and is much more friendly to the pros competing on the tour.
The new format involves all fish being weighed on the water as they are caught and released by marshals that are in the pro's boat. Any fish over a pound is counted and their is no limit to the amount of fish that can be weighed. All bass you catch count towards your total weight. Their is no more 5 fish limit which makes for much more exciting live coverage of the event. It will be very interesting to see what ultimately wins the event. If it will be someone going after just big fish or someone just trying to catch as many as they can or a combination of the two. The event will span 6 day's. Beginning on Jan 29th and ending on Feb 3rd. MLF will have extensive live stream coverage on their website www.majorleaguefishing.com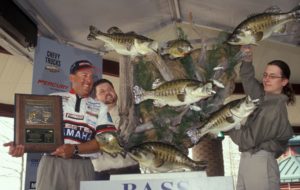 The FLW event will be the standard biggest 5 fish limit. Let's not forget that the biggest 5 fish limit ever weighed into a pro tournament is still held by Lake Toho by then Bassmaster pro Dean Rojas who caught that amazing 45 pound 2 ounce batch of fish back in 2004. Will Toho break the record again? The tournament will be held on Feb 7th-10th with their live stream coverage beginning on Feb 8th-10th. That can be found on their website www.flwfishing.com
With 80 of the worlds top anglers in the Bass Pro Tour and 170 in the FLW tour their should be some amazing fish catches happening. Especially with how well Lake Toho has been fishing lately. It will definitely be something to watch. Especially if you've never watched pro bass fishing before.
Follow us on our social media down below for more coverage of the events!
Bass wishes,
Capt. AJ from Freelancer Bass Guide Service
Want to be notified of our latest deals, news, fishing reports/blogs, and Youtube videos?!
Subscribe to our email list below!