Shiners, not only do they catch giant bass but they can be used in a number of different ways to help you catch more fish with artificials. Shiners are renowned for there ability to catch the biggest bass in any body of water. The reason why shiners work so well is because it's simply what these fish prefer to eat. Bass in a aquarium will gulp shiner after shiner while refusing to eat bluegill, frogs, or crawfish. While big bass may easily become accustom to the strange movements and shapes of artificial lures, they just can't help themselves to the natural movements and fears of a live shiner. But, shiners can also be one of the most useful tools to helping you become a better artificial fisherman.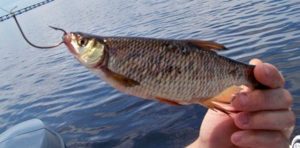 First off, if you have a few spots that you feel have lost there luster and no longer hold fish, you can spend a day fishing them with shiners. The results will probably surprise you. Chances are there are still plenty of fish there just waiting to be caught. Catching a few of these fish with shiners will renew your confidence in an old honey hole and spending the day trying new presentations attempting to figure out what these fish (that you know are there) want, and learning how to get the most out of a spot can help greatly in bettering yourself as a bass angler. The same works the other way around, trolling or drifting shiners are be one of the most effective ways for finding your next honey hole. Either using slip sinkers to keep them on the bottom or free lining them. They are extremely useful for finding those subtle spots that no one else on the lake knows about. Testing a spot with shiners before fishing it with artificials can be extremely beneficial. You can easily and quickly figure out the quality and number of fish on any given area of the lake simply by tossing a few shiners in and waiting for a short time. Many of my best spots that I've won local tournaments off of were found first by using shiners and then going over thoroughly with artificials to figure out the most productive way of catching them.
Shiners may be most known as a Florida bait but they can be used to catch the biggest bass from a spot in any lake, and the fact that they are not widely used outside of Florida gives you the advantage. From north to south and from Largemouth to Smallmouth, these little guys do not discriminate! From deep water ledges to shallow spawning flats, shiners can be used to make you a better angler if used the right way.
Our next article will go more in depth on the special tricks and techniques used to get the most out of shiner fishing, and to receive email updates on our latest articles feel free to sign up for our newsletter.
Bass wishes,
AJ Jackson from Freelancer Bass Guide Service