The fall bite has started and the bass are biting everywhere! The recent cold fronts we've had have really kicked the fish into overdrive and they've started gorging themselves for the winter. Lake Toho is loaded with hydrilla and just about every patch of it holds good fish. So much so that I'm having trouble deciding where to start each day, because it doesn't seem to matter where you go, as long as you're around good hydrilla you're going to catch good fish.
The bite has been so good in some of these spots that I've had quite a few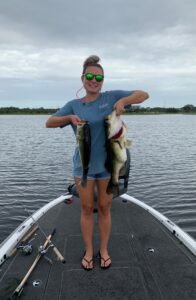 days in the last two weeks where we caught 50+ fish! On both shiners and artificials. Now that's just insane. I had one day where we caught 62 anchored up in just ONE SINGLE SPOT.
So where are the bass at? And what are they biting? Well like I said before, hydrilla. Mainly offshore hydrilla but some up shallower has been producing also. As long as you're around hydrilla that's deeper, there's fish in it. I guarantee you. And catching them hasn't been all that difficult either.
Shiners of course are the #1 option and your best bet for catching the most and biggest bass that Lake Toho has to offer. Especially if you only have one day out there. But as far as artificials go, the jerkbait has become king again.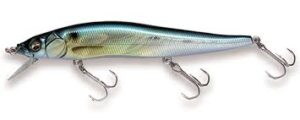 I can sit in certain areas with the right weather and literally just catch one after another, after another on it. All ranging from 1-7 pounds. Between the jerkbait, chatterbait, swimjig, and good old fashioned worm, I can go through an area and literally feel like I'm catching EVERY SINGLE fish that is there. If you want to learn how I use a jerkbait I've got an excellent video of it on my YouTube channel that you can watch here
The bass fishing on Lake Toho just seems to be getting better and better as the months go by and we inch closer to winter. Whether you live nearby or would like to book a trip down here with us at AJ's Bass Guides, I'd say now's the time to get out and fish this hot spot of a lake.
Bass wishes,
Capt. AJ
Any questions? Or want to book your trip? Feel free to call us anytime at 407-288-9670 or email us on our contacts page.
Want to be notified of our latest deals, news, fishing reports/blogs, and Youtube videos?!
Subscribe to our email list below!