Now I've had some amazing days bass fishing lake Toho catching both big numbers and big bass. But never have I seen this lake produce both of these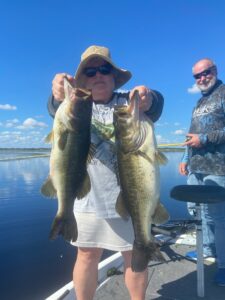 so consistently. I mean even after cold fronts (which usually slow down the fishing) the fishing remains unchanged and even has gotten better! 30 fish days with a 7 pounder have become the average with 40-70 fish days and multiple fish over 7 pounds becoming very common! There's only one word for it, stupid. It really is stupid how good the fishing is right now on Lake Toho. And it's a testament to how the FWC is managing the lake.
You've kept hearing me talk about how they're managing the lake the best I've ever seen over the last year and this is the fruits of there labor. Or should I say non-labor, because it's from them doing less spraying and killing of the grasses in the lake is why this already world famous lake has become even better.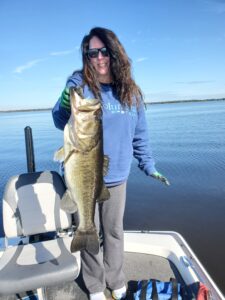 Now as I said, they're not spraying or doing any killing of grasses on the lake right now which means there's lots of hydrilla. More hydrilla than I've ever seen on the lake, and more eel grass than I've ever seen. Which is a sign of good water quality. And that's where ALL of this fishing is centered around right now. Bass have still not yet begun to move up shallower to spawn (however they will soon) so they are all still offshore.
All you need to do is stick to the hydrilla and eel grass of the lake throwing speedworms (either worming on the bottom or reeling, but worming has been working well), jerkbaits, chatterbaits (if the waters warm), or dead-sticking flukes (if the waters cold). And simply if you're not getting bit on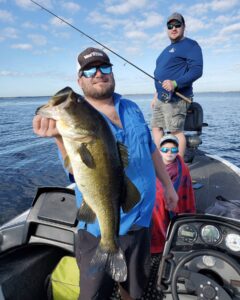 one patch of grass just move to another.
While the artificial bite has been good, shiners as always are the best option for getting the most out of your day. And if you're on the right spot you can put a bunch in the boat real quick.
The fishing on Toho is the best and most consistent I've ever seen it. And if the FWC keeps doing what they're doing, it's only going to get better throughout the winter.
If you'd like to book a trip with us on Lake Toho feel free to give us a call at 407-288-9670 or email us at ajsbassguides@orlandobass.com
Bass wishes,
Capt. AJ
Want to be notified of our latest deals, news, fishing reports/blogs, and Youtube videos?!
Subscribe to our email list below!