Lake Toho's bass fishing is absolutely insane right now. It's the HOTTEST lake in Florida. With no shortage of hydrilla and other types of submerged grasses all throughout the lake you can literally hammer them from one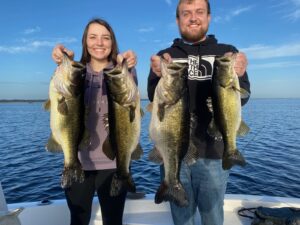 end to the other. 40+ fish days are very common with 20+ fish days being a tough day. Even after cold fronts! And these aren't little fish either. 3 pounds has been the average size! We've already caught a 12.3 pounder and 11.2 pounder so far this year, along with several 9+ pounders and plenty 7-8 pounders. If you follow us on our Instagram @orlandobass1 or Facebook @freelancerbass then you've seen the action. As long as the FWC continues to manage the lake like they have been and leave plenty of grass, this kind of fishing will continue for YEARS to come.
At the time of writing this article (mid January) the bass have not moved up shallow yet. They are still all offshore. Only small buck bass are up shallow right now, it won't be until February and March that the females move up to spawn. So ALL of our fishing has been focused on the giant fields of offshore grass on the lake. Many of these grass patches hold good groups of fish. For artificials moving baits in the first few hours of the morning and last couple in the evening have been working such as a swimjig and spinnerbait. But once that sun really gets up most days you have to switch to something slower and more finessey.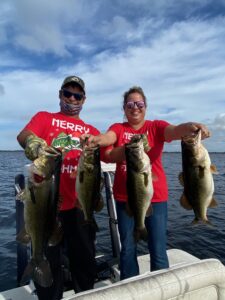 Jerkbaits have been working really well ALL day on the submerged grass, especially if you have wind. Weightless Flukes fished slowly near the bottom on submerged grass, dead-sticked in holes, or around the edge of thicker grass has been a great technique. And flipping the thicker grass has produced some big fish also.
But as always, shiners have been the ticket if you want to get the most out of your day. They are keyed in on them really well right now and some days they just won't stop eating them! I mean really, we've been sitting in some spots some days and running through as many shiners as you want to get. Just one after another. With the right weather I've had several 70+ fish days on shiners so far this year.
With how things have been going these last few months, it looks like it's going to be one heck of a year for bass fishing Lake Toho. And I can't explain how excited I am!
Bass wishes,
Capt. AJ
Any questions? Or want to book your trip? Feel free to call us anytime at 407-288-9670 or email us on our contacts page.
Want to be notified of our latest deals, news, fishing reports/blogs, and Youtube videos?!
Subscribe to our email list below!