Finally its April, one of my favorite months to fish Lake Toho. The bass are aggressively feeding up after spawning in the winter and the weathers consistent. Which makes the bite very consistent also. And that is what's going on right
now on all of the offshore grass patches on the lake. We're consistently catching good fish! We're averaging around 20-30 fish on a 4-5 hour trip. There's so much offshore grass for these bass to get on right now, it's awesome, and it pretty much all has fish on it. Our guides are scattered all over the lake fishing all different patches of grass, and we're all catching fish. This is also one of the best times of year to fish artificials also and they've been biting a range of different lures.
Flukes, swimjigs, speedworms, jerkbaits, chatterbaits, topwater spooks, and flipping have all been catching fish. That's what's awesome about this time of year, you can catch fish on kind of whatever you want! Now as I've said above and many other times before, Lake Toho bass are offshore bass. They like to be offshore as much as possible. And right now they've got plenty of real estate to choose from with all the grass patches out there. Whether it's hydrilla, eel grass, or pepper grass, theirs fish on it.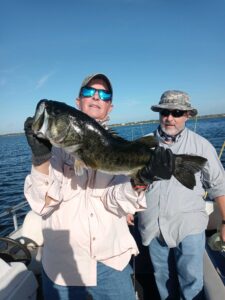 Locating one of these grass patches isn't hard right now, and once you find one, stick to the outside edges of it. That's where a majority of the fish are right now. Swimjigs, speedworms, and chatterbaits have been working well just reeled slowly across the tops of the grass. While flukes have been working best by dead sticking them and letting them sink all the way to the bottom, then twitch it a couple of times back up and repeat, letting it sink back down again. The jerkbait has been working best moved more quickly with harder jerks and a short pause in-between. But as always large golden wild shiners have been working the best and you'll definitely get the most your of your day with them!
This is a awesome time to be fishing Lake Toho right now so whether you're here on vacation or live here, get out and go fishing!
Bass wishes,
Captain AJ
Any questions? Or want to book your trip? Feel free to call us anytime at 407-288-9670 or email us on our contacts page.
Want to be notified of our latest deals, news, fishing reports/blogs, and Youtube videos?!
Subscribe to our email list below!