It's been one of the best years of fishing we've ever seen so far on Orlando's Lake Toho. Never have I seen the lake as a whole fish so well. I mean there's so many different areas you can catch fish in right now it's crazy. Usually with our team of guides we have to fish around each other in certain areas to keep people on good fish, but with the lake being absolutely on fire like it is right now, we are all spread out through the lake fishing different spots and slaying them all the same! Lake Toho is definitely the lake to be on right now.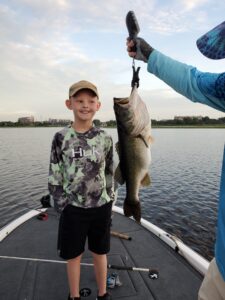 Why is it bass fishing so well? Because of all of the submerged grass in the lake. The Florida Wildlife Commission (FWC) has changed their management plan for the lake the last few years and it has produced tremendous results. Instead of spraying and killing off the hydrilla in the lake routinely like they used to do, they are leaving much larger amounts of it. The large amounts of hydrilla in the lake have led to increasing populations of bass. Each year the fishing has become better and better.
With that being said much of the great fishing we are talking about can be found in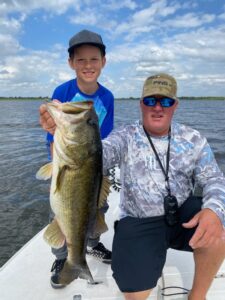 the large amounts of hydrilla and eel grass spread throughout the lake from the north end to the south. Staying on the edges of the thicker hydrilla has been the key, but submerged hydrilla under the water can hold hidden groups of fish. Large holes in the hydrilla have held good groups of fish also. The other pattern that's going on right now is running water. With all the rain we've been getting since June all of the creeks running into the lake are flowing strong and have fish sitting in front of them. The locks that run out of the lake on the south end and the locks that run into the lake from East Lake Toho are both open right now and pulling water. Which has bass sitting around them also.
The best artificial bite has been on speedworms and chatterbaits reeled through the grass, and flukes slowly switch in the grass. Jerkbaits and squarebill crankbaits have been working in the running water. But as always, live large golden shiners are what you're going to get the most your of your day with.
Now's the time to be on Lake Toho, some come be a part of the action!
Bass wishes,
Capt. AJ
Any questions? Or want to book your trip? Feel free to call us anytime at 407-288-9670 or email us on our contacts page.
Want to be notified of our latest deals, news, fishing reports/blogs, and Youtube videos?!
Subscribe to our email list below!