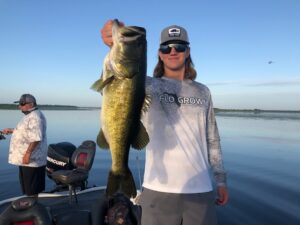 With fall beginning to approach the bass fishing is starting to change on Orlando's Lake Toho. The days are starting to shorten and the bass are just now beginning to show signs of moving into a fall feeding pattern. Which basically means they're starting to feed for longer in the morning instead of quitting once it starts to get hot around 10am, only to feed again in the late afternoon. We're averaging around 20 bass a day on our guide trips with some days catching over 30. The average size has been good too, we're catching a decent amount of 4+ pounders. As per usual the main group of bass can be found on submerged and topped out grass patches. Mainly hydrilla but eel grass and pepper grass have been holding fish also. The running water bite has faded but fish can still be found in the creeks and canals running into and out of the lake where current is still present.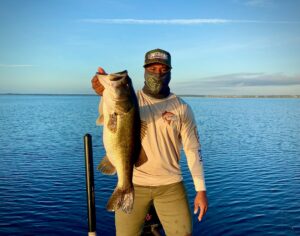 The main bite has been on a few different lures lately depending on what you're fishing. In cleaner water, weightless flukes slowly jerked near the bottom have been working best. In the current, Carolina rigs with a worm on the back have been putting fish in the boat. And in dirtier water with hydrilla, speedworms and chatterbaits reeled through the grass have been the ticket. Also a decent topwater bite can be found some mornings in the first hour on frogs and spooks. Most of the fish we're catching though are coming off of wild golden shiners, and they have not been shy about hitting them on top the water lately.
All in all it's been a pretty solid summer of bass fishing here on Lake Toho. The states new management plan for the lake is leaving plenty of hydrilla to be fished throughout the lake which has made the fishing very consistent for both numbers and size of bass and I see it continuing throughout the rest of the year. So come be a part of the action!
Bass wishes,
Capt. AJ
Any questions? Or want to book your trip? Feel free to call us anytime at 407-288-9670 or email us on our contacts page.
Want to be notified of our latest deals, news, fishing reports/blogs, and Youtube videos?!
Subscribe to our email list below!