It's the Fall and we're in a transition period here in Orlando Florida. The day's are getting cooler and as always at this time of year the FWC (Florida Wildlife Commision) has begun to spray and kill off the hydrilla in Lake Toho.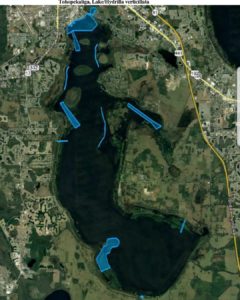 Now you may be wondering why would they do this? Well it's not without good reason. Hydrilla in Lake Toho during the summer here in Florida grows extremely fast. Up to 2 inches a day in some cases. While it is great for the fishing it tends to overrun portions of the lake, like bass spawning flats and boat canals. So during the fall they begin clearing out areas for the upcoming bass spawn in the winter and canals for boat traffic. While this hurts the fishing in these areas for a short time, it ultimately is good for the bass population and the fishing as a whole. Luckily most of the areas we have been fishing haven't been touched. On the right is the map of the areas they have sprayed so far for the month of October. So if you're planning on fishing Lake Toho anytime soon, fish those areas at your own risk because you may not catch any fish!
Despite the spraying, the bass fishing has been consistently good on Lake Toho as it has been throughout the year. We're averaging catching around 10-15 bass per day with some day's 20. The bass are spreading out a little due to the fall transition. Bass can be caught up shallow as well as off-shore. The majority of the bigger fish still remain on off-shore hydrilla patches where we are still catching them consistently.
The best producer of the big fish as always has been live wild shiners. But if you're looking to use artificials, fishing a weightless senko in lily pads and grass edges has been very productive. Alternatively there are also groups of bass beginning to key in on schools of shad out in open water throughout the lake. If you happen to find one of these schools it can be lights out! Throwing a Spook on top, a jerkbait, or a Rattletrap can be great ways of catching these fish.
All in all Orlando's Lake Toho is fishing very well. Trophy sized bass are being caught consistently, and after all, that's what fishing Florida is all about right?
Bass wishes,
Capt. AJ
Want to be notified of our latest deals, news, fishing reports/blogs, and Youtube videos?!
Subscribe to our email list below!